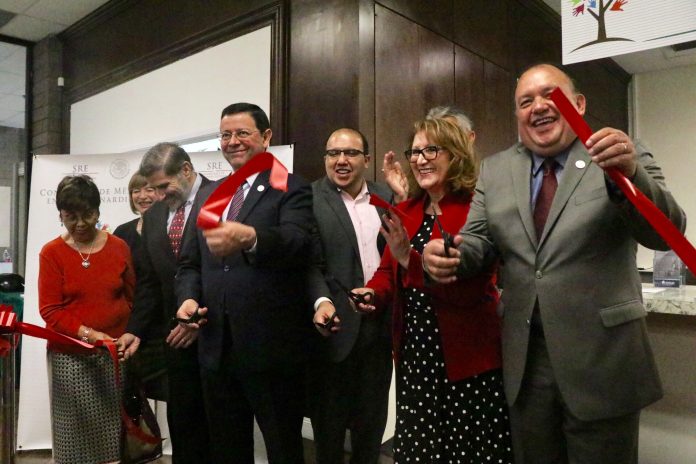 Local educators and Mexican government officials believe there is a huge need to provide residents advice on navigating the educational system.
The launching of the Mexican Consulate and San Bernardino Community College District's Educational Opportunities Help Desk on October 30 serves as a "proud moment" for the community, expressed Consul Salomon Rosas Ramirez.
"At the end of the day, it's about serving our people," said Rosas in Spanish. "It's about providing better attention to the issues and working towards constructing a better quality of life."
Providing information on K-12, college, vocational education, and financial resources to the Inland region's 1.7 million Mexican nationals is the start of a fantastic partnership, explained San Bernardino Community College District Chancellor Bruce Baron.
"Education changes everything," Baron said. "Our goal is to expose the community to educational opportunities…to provide information so that more and more people take advantage."
The vision to create the Help Desk came through conversations between the San Bernardino Community College District and the Mexican Consulate. Residents visiting the Mexican Consulate to receive legal assistance will find it convenient to have easy access to educational experts that can help them with an array of questions, SBCCD Board Member Frank Reyes surmises.
"We have a captured audience here [at the consulate]," Reyes said. "There are a lot of programs people could take advantage of."
According to Baron, the San Bernardino community has the lowest college-going rate in the state at approximately 28 percent. The U.S. Census' American Community Survey demonstrates that San Bernardino County's college graduation rate is at 18.7-percent.
Baron believes the only way that rate will improve is by reaching out to disadvantaged communities.
"We don't like that statistic," Baron said. "It's embarrassing for our community. We need to do better. The only way to do that is through outreach."
For more information on the Educational Opportunities Help Desk, contact Angel Rodriguez at (909) 382-4012.
---
Join our newsletter for weekly wrap-ups of our community coverage, exclusive advertising opportunities and local business specials!