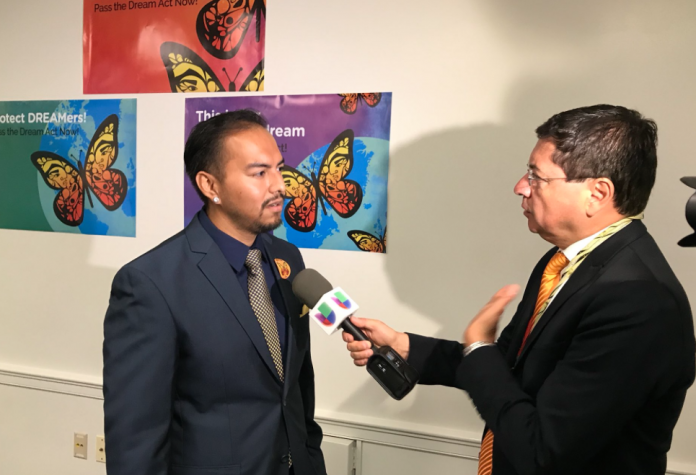 As the window to renew Deferred Action for Childhood Arrivals (DACA) permits closed on thousands of undocumented immigrants earlier this month, the prospect of losing years of progress now looms.
Undocumented immigrants now have to race against time in order to achieve their goals. And even if they do find accomplishment in their aims, Dreamers are susceptible to deportation.
Where does that put the thousands of undocumented immigrants that currently work in education or aspire to be teachers?
According to my good friend Vicente Rodriguez, a member of the Student California Teachers Association and the National Education Association, it leaves them without the agency to help others in their predicament.
"I didn't have a lot of teachers who inspired me to tell me, 'You've got this. You can make it,'" he said during a NEA press conference in Washington D.C. last week. "I don't want any student to feel that way, especially the first generation students, regardless of status."
Without educators like Rodriguez leading our classrooms, we will leave an entire generation of students with no available mentors to turn to in times of need. Specifically, Dreamers coming of age may feel unengaged through education and may find no need to acculturate into U.S. society.
Currently there are 74,362 students that are English-Language learners in San Bernardino County, according to data collected through the California Department of Education. Californian's Together, the statewide education advocacy group, demonstrated in a recent survey that there is a desperate need for teachers that are both culturally adept and proficient in English and Spanish.
Despite school districts providing long ranging bilingual programs that help ELL students, a shortage of bilingual teachers remains.
In addition to first generation educators–in this case, Latinos born to immigrant parents in the U.S.–undocumented educators can help fill those roles. In an era where blatant discrimination against immigrants and Latinos is prevalent, it's vital that undocumented students, and really, students of color, view themselves through their teachers.
Rodriguez admits this will be a tall task. In his experiences organizing with the NEA and SCTA he's been left frustrated by the lack of empathy and understanding of the immigrant experience by veteran educators. Without the assurance of DACA, Rodriguez fears that the influence of undocumented educators will diminish.
"Many other educators don't have solutions," Rodriguez said in a telephone interview. "Frankly, they don't know anything about the struggles of immigrants or do they even care."
As a result of these encounters, Rodriguez is taking "Know Your Rights" cards to events in order to try to get through to colleagues. He said teachers are now beginning to grasp the level of fear among the undocumented community.
Creating a DREAM Act, one that provides a swift pathway to citizenship to hardworking undocumented educators like Rodriguez, will be good for everyone in our country regardless of legal status. Retaining opportunities for aspiring teachers who are undocumented will only help to encourage young Dreamers that the U.S. is truly the land of opportunity.
Undocumented educators deserve their chance to help fellow Dreamers. It's only right that we clear a path to give them the power to change lives.
---
Join our newsletter for weekly wrap-ups of our community coverage, exclusive advertising opportunities and local business specials!