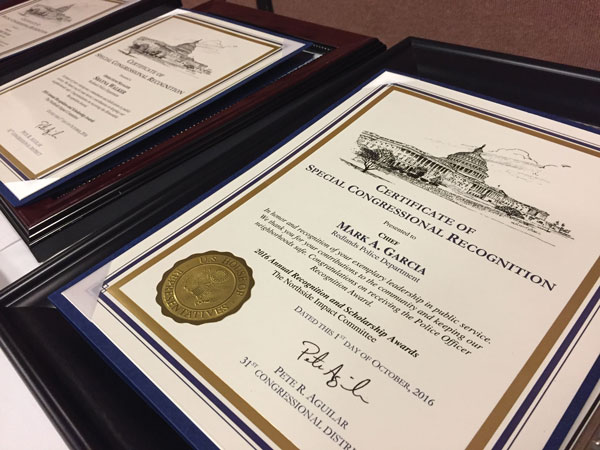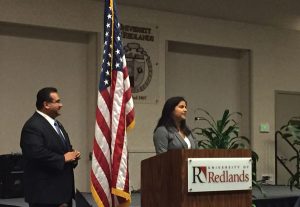 The Northside Impact Committee spotlighted more than a dozen youth and community service leaders Saturday during its annual Recognition and Scholarships Awards.
Held at the University of Redlands Orton Center, the group celebrated "25 years of making a difference" in the Redlands community and featured Rep. Pete Aguilar (D-Redlands), as special guest speaker, along with San Bernardino County 3rd District Supervisor James Ramos.
"The purpose behind our awards is to give encouragement to students that have not walked the traditional path in their education and to remind them that even though they've had barriers, they've overcome those roadblocks and have continued toward success," said Ed Flores, chairman of the Northside Impact Committee. "We want to help them achieve their future and higher educational goals."
Earning top honors this year as the group's Outstanding Youth were Ryan Ordaz, a 17-year-old Redlands East Valley High School senior who plans to pursue a career in the medical field as an anesthesiologist, and Kiran Rawtani, a 16-year-old Redlands High School senior, who is on the road to pursuing her dream as cardiothoracic surgeon.
Also awarded for their educational success were Redlands East Valley students Claire Muller, 17, and Emmanuel Monroy, 17; Orangewood High School student Candy Valley, 17; Citrus Valley High School student Cameron J. Smith, 17; and Redlands High School students Lerina Alvarez, 17, and Mallory Flanagan, 17.
"This room is filled with people that believe in you," Ramos said to scholarship awardees.
"We want to make sure that you can succeed and follow your dreams."
Scholarships in the amount of $600 were granted to the students with Outstanding Youth awardees receiving $800. Outstanding Youth Awards were sponsored by the Redlands Professional Firefighters and the Redlands Police Officers Association.
Scholarship funds are made possible through yearlong fundraising efforts.
The group also recognized 13 members of the Redlands Police Department— Detective Kelli Bishop; Sgts. Andrew Capps and Jeremy Floyd; Officers Patrick Estrada, Patrick Estrada, Joseph Aguilar, Matt Knudsen, John Manly, Ryan Steinhaus; dispatchers Kathy Ramirez and Jenna Heusterberg; Operations Manager Shayna Walker; and Community Service Officer Kimberly Howard — for their service in responding to the Dec. 2 San Bernardino terrorist attack.
Redlands Police Chief Mark Garcia received this year's Police Officer Recognition award.
"The committee made a unanimous decision to honor these men and women for their bravery and valor," Flores said. "They all deserve to be honored for their service."