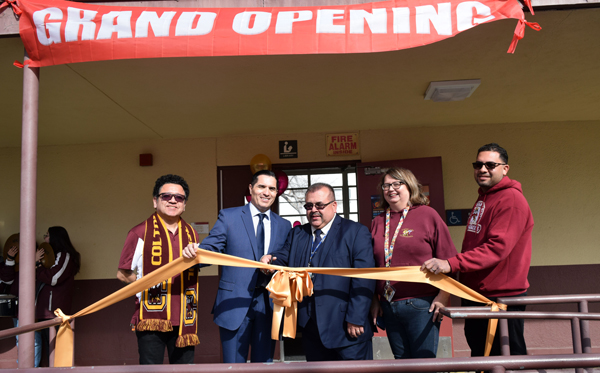 The newly renovated Colton High School library celebrated its grand re-opening on Friday, Jan. 17 with a ribbon cutting ceremony and open house.
The library renovation was completed this year with a $40,000 2018-19 CJUSD Future Ready Library Media Center Grant, which the school earned in a competitive application process. Smith Tech Academy also earned a library grant and work is currently underway at that site. Cooley Ranch earned the district's first library grant and opened its new Learning Commons in 2018.
Colton High's new library has been transformed into a vibrant and inviting new space with plenty of natural light, a welcoming color scheme (crimson and gold) new floors and flexible seating, a maker space, a media/ video production room, several computers, a coding center, game area, mental health resource center, and much more.
Librarian April Geltch said she hopes the welcoming space will encourage more students to visit and use resources available for research.
"The library is a place for lifelong learning," she said. "We want everyone to feel welcome here."
"We're very excited," added Assistant Principal Jorge Alvarez, who said that it is gratifying to see the hard work of many paying off. In addition to the amazing CJUSD Maintenance and Operations team, library staff and even student volunteers helped to remove old furniture and books to prepare for the renovation.