Rialto HS girls basketball claims CIF-SS title with comeback victory
3 min read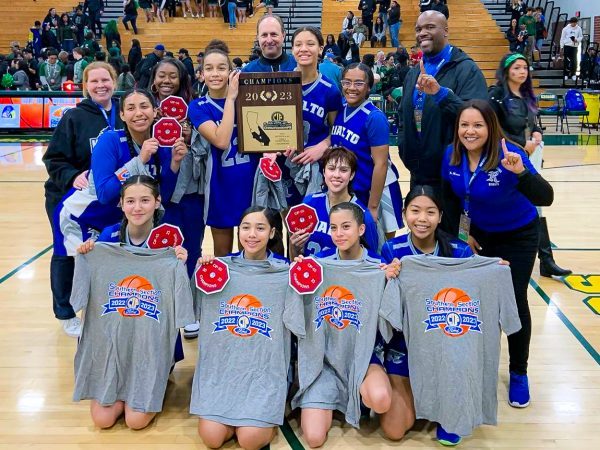 On paper, the Rialto High School girls basketball team's victory in the CIF-Southern Section Division 4AA championship featured a double-digit comeback with the Knights only taking their first lead of the game in the final minutes.
To hear the team talk about it, however, there's calmness present and the feeling that they had it all along.
The Knights made history by winning the 4AA championship with a 46-44 victory against Buena Park High School on February 25 at Edison High School.
The title is the program's first since 2011. That year, Rialto High School claimed the CIF-SS Division 2AA title with a 55-53 victory against Buena High School.
In the title game, the Rialto High School girls basketball team stormed back from a 12-point halftime deficit. The Knights took their first lead of the game with 1:04 remaining in the fourth quarter. Rialto HS sophomore Carrington Davis was fouled and Buena Park HS was issued a technical foul. Davis hit both technical free throws and both foul shots to push the Knights ahead 44-42.
Despite trailing early, Rialto HS coach Robert Goodloe and the players say there was never a moment of panic.
"One of the things is I am retired from the military," Goodloe said. "I can accept losing a battle but I can't accept losing the war. Yes, they got ahead of us in the battle, but our main goal is to win the overall situation. We did that. I told the team that we've been here before, and we are going to continue to stay patient. We are going to go out there and we are going to work harder. We are going to go one point at a time and we are going to go out there and win. It's going to happen. And it did. It started out a little rough, but we didn't quit."
The Knights had their best performance in the third quarter and cut the Coyotes' lead to four points entering the fourth quarter after going on a 10-2 run.
"We stay level-headed," senior Khamiyah Anderson said. "We didn't get down on ourselves and we didn't quit. That allowed us to come back and take the win."
Anderson and Davis helped push the Knights over the finish line. The duo combined for 38 of the Knights' 46 points in the championship game. Davis finished with a game-high 27 points and 15 rebounds. Anderson scored 11 points and grabbed 14 rebounds.
"We just trusted each other," freshman Destiny Rabino said. "We had to be better defensively in the second half and we were. I wasn't scared. We've been down like this before. Carrington and Kayma were bringing the momentum. We were getting back in the game and things were just going our way in the second half."
The championship wraps up an impressive run for the Knights. Over the last two seasons, they have won back-to-back league titles while going undefeated in league play, and they are 48-7 overall in that stretch.
Despite the dominant record, Rialto HS has faced adversity during that time. The team came up short last season, losing 53-48 to Victor Valley in the Division 4AA quarterfinals. Both Goodloe and Anderson said the team channeled that experience as it pushed in the second half against Buena Park HS.
"We fell short last year, but when we got it this year, it was that much more special," Anderson said. "I remember that game. My head was not in it and my head was not focused. The lesson I learned was I have to stay focused and we have to play as a team. We can't be distracted."
Anderson is one of two seniors on the team, alongside Maliana Tahi. While she hasn't made a final decision on a school just yet, she said she plans to continue playing basketball in college as she pursues a psychology degree. For now, she wraps up her senior season as a champion.
"I was so happy," said Anderson. "It's my senior year. I was very very happy to get the ring and to have this title. After everything, I worked for it. To have it, to receive it was a true moment of bliss for me."