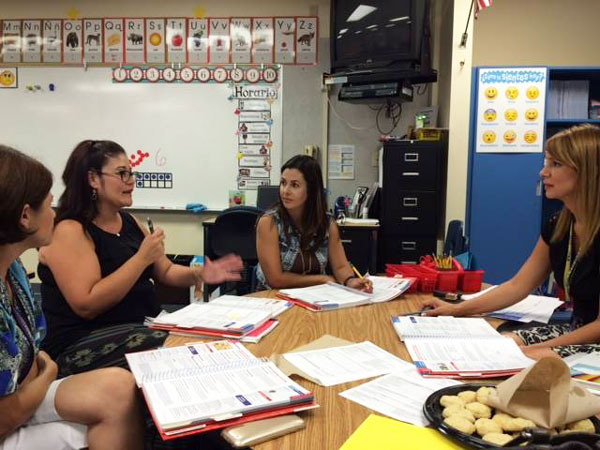 The Rialto Unified School District (RUSD) is inviting parents of kindergarten students for the 2018/2019 academic year to attend information and application process meetings for entry into the Dual Language Immersion program (DLI).  The program is designed to give "students the ability to learn content and develop literacy in two languages," according to the RUSD website.
According to DLI Director Dr. Marina Madrid, the program begins with four strands (the four different elementary schools which include Boyd, Kelly, Garcia and Morris) of bilingual learning (Spanish/English) at the elementary level and continues with the enrolled students through their twelfth year.  BY the time of graduation, students will be fluent in both languages, allowing them unique opportunities, for example studying abroad in Spanish-speaking countries (due to the higher academic skills gained in the Spanish language), or gaining employment for which bilingual skills are necessary.

"At this point we are seeking parents who want their kindergarteners to be enrolled into our dual language pathways.  We have only 30 spots at each school to fill this coming year's classrooms, and at other grade levels we are only able to put students on a waiting list," said Madrid.
The effort to get children in to the program brings a payoff that has been well studied.
"Studies show that DLI students are consistently high achievers.  When introduced to a new language at a young age, children develop more parts of their brain in that learning process that allows for a greater capacity of gathering and absorbing information," Madrid said.
Madrid also explained that the program process includes strong support systems in which families become very involved with all the students' efforts to learn reading, writing, listening and speaking skills in both English and Spanish.
"It ends up being a close-knit community of committed learners and parents.  When the focus is on Spanish, the Spanish-speaking parents help the students succeed and when the focus is on English, then the English-speaking parents reciprocate that effort."
"The teaching methods in DLI are very visual, with a lot of listening, speaking and hands on work.  It's a very different teaching philosophy compared to a regular classroom, and there are no gaps in the learning process," continued Madrid. "Any parent who is interested in learning more about our program should come to an informational meeting and find out what's going on in this exciting program."
The days and times of the upcoming informational meetings are available on the Dual Language Immersion Program page at:  http://kec.rialto.k12.ca.us/