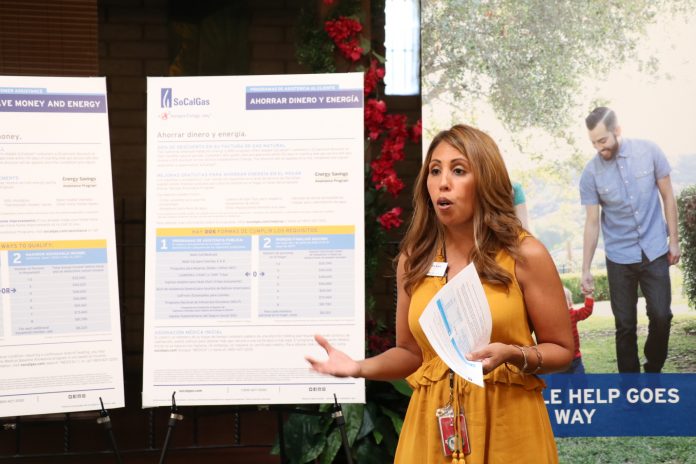 Southern California Gas (SoCalGas) held a media roundtable at Mitla's Cafe on Thursday to announce several initiatives intended to help low income residents in the Inland Empire.
Two programs, the California Alternate Rates For Energy (CARE) and Energy Savings Assistance Program (ESAP), may help an additional 500,000 low income families across the state receive "energy-efficient" upgrades, according to SoCalGas representatives.
Other groups, such as the Asian American Resource Center and the Maravilla Foundation were also on hand to provide information about their work in the community.
Under CARE, SoCalGas offers a 20-percent discount to eligible customers on their monthly natural gas bill. Eligible customers who are approved within 90 days after signing up for service will also receive a $15 discount on a Service Establishment Charge, according to the company's website. Those who qualify for ESAP will receive weather stripping, water heater blankets, caulking, and other improvements at no cost.
Residents are eligible to quality under CARE and ESAP help if they currently receive assistance under government programs such as MediCal, CalWorks, WIC, or meet income requirements. For example, under current guidelines a family of three has to earn no more than $32,000 a year and a family of eight cannot earn more than $81,700 a year.
According to SoCalGas spokesperson Rosa Santana, CARE and ESAP was instituted by the utility company in 1989. Currently one-third of customers receive assistance CARE and about 80,000 homes have been weatherized under ESAP.
"SoCalGas is committed to offering affordable options to all of our customers," Santana said. "Together we can meet the ambitious environmental goals that our state has established."
Contractors like the Maravilla Foundation have spoken to low income residents at churches, community fairs, and schools to help them with utility concerns, as well as inform them of possible scams.
"A lot of families are skeptical," said Maravilla Foundation Outreach Manager Gilbert Malijen. "We are here to assist them. We're not here to rip them off. Our goals are safety, for them to save energy, and money."
One resident expressed gratitude for the services she's received through SoCalGas.
"Through SoCalGas' Energy Savings Assistance Program, I was able to make home improvements that made a difference," said Teresita Salazar, a Fontana resident who recently had ESAP upgrades at her home. "I've been able to save money and energy from these upgrades – and it was all affordable."
For more information about the programs, visit SoCalGas' website.