San Bernardino Valley College Celebrates Success of Valley-Bound Commitment Program
2 min read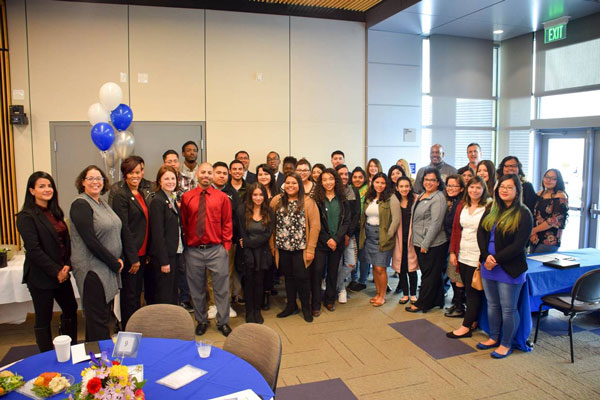 The San Bernardino Valley College Foundation hosted its annual Valley-Bound Commitment Luncheon in February 2018 to highlight the continued success of San Bernardino Valley College's Valley-Bound Commitment Program (Valley-Bound) and the support of the San Manuel Band of Mission Indians. The award-winning program provides a free first year of college to local high school students.
SBVC Director of Development and Community Relations and Executive Director of the SBVC Foundation, Karen Childers, welcomed guests and discussed the premise of the Valley-Bound program.
Designed to encourage a smooth transition into college, Valley-Bound covers the first year of costs for students from several local feeder high schools. This includes textbooks, transportation, registration fees, school supplies, and more. In addition, Valley-Bound students attend a weeklong summer orientation, meet with an educational counselor regularly, participate in field trips to four-year universities, and fulfill a community service requirement.
SBVC President Diana Z. Rodriguez followed Childers. "As a life-long educator, I would like to see education as not a privilege but a basic human right," said Rodriguez. "This program has launched students into lifelong careers. I can honestly say that Valley-Bound would not have been possible without the support of our friends and family members at the San Manuel Band of Mission Indians."
SBVC Dean of Student Equity and Success Carmen Rodriguez then took to the stage. "I want to tell you why we do this," said Rodriguez. Rodriguez recounted Valley-Bound alumni and their success stories. She also acknowledged the hard work of the Valley-Bound staff.
Following, Valley-Bound alumni Felicia Garibay and Chris Espinosa shared their personal experiences in the program.
Garibay graduated from SBVC in 2014, earning associate degrees in biological and physical sciences, and social and behavioral sciences. Garibay transferred to California State University, San Bernardino (CSUSB), where she earned a bachelor's in psychology in 2017. She plans to pursue graduate studies.
"I am standing here today thanks to Valley-Bound," said Garibay.
Chris Espinoza will be graduating from University of California, Los Angeles in June 2018. He will earn a bachelor's degree in sociology with a minor in computer science. Espinoza is currently in the process of applying to a graduate program in business administration at CSUSB. He plans to enroll in fall 2018 and will pursue Business Intelligence and Information Technology.
"I remember when I started (college), I felt very limited…I feel very privileged to have been a part of the Valley-Bound Commitment Program," said Espinoza.
Program Officer for Education for the San Manuel Band of Mission Indians Faun White followed, and spoke about San Manuel's commitment to education. "Wherever you land, always make sure you give back," said White.
Childers closed, thanking all who make Valley-Bound possible.