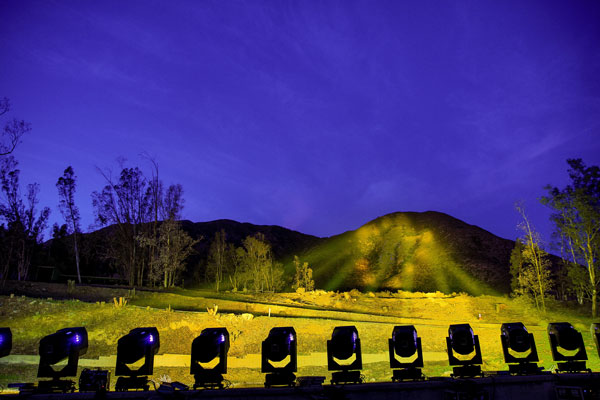 Victims of the Dec. 2 terrorist attack were remembered and honored a year later with a memorial bike ride, garden dedication, Night of Remembrance and the brilliant illumination of the iconic Arrowhead in the foothills of the San Bernardino Mountains courtesy of the San Manuel Band of Mission Indians. It continues to be lit for 14 consecutive nights in memory of each life lost, and serves as a symbol of solidarity and hope for this community.
"Even as we struggle to make sense of those events from a year ago, we remain strong in our commitment to the values that make us a strong community," said Lynn Valbuena, Chairwoman of the San Manuel Band of Mission Indians. "We are proud to join with the San Bernardino and our community partners to shine a new light in memory of those we lost."
The Arrowhead, which sits directly above the artesian hot springs within the historic Arrowhead Springs Hotel recently acquired by the San Manuel Band of Mission Indians, can be seen from anywhere in the cities of San Bernardino and Highland when lit. Dan Johnson of San Bernardino went to Wildwood Park for a closer look on the anniversary of the attack and first night of illumination.
"I knew one of the victims and a year later it's still hard to cope with," he said. "I wanted to see this tribute and I think it speaks volumes that San Manuel did this for our community, it shows they're really vested in us."
The Arrowhead, which has never before been illuminated, will be lit until Dec. 15 from 5:30 – 10 p.m. with over a dozen 120,000-lumen arc lights. One of the most famous landmarks in the Inland Empire, for centuries the Arrowhead was a symbol of the San Bernardino Valley to the Native Americans of the region, and then to the pioneers and settlers that followed. It has been named a California Historical Monument (#977) and is the namesake for the city of Lake Arrowhead and logo for San Bernardino County.
The Arrowhead is 1,375 feet in length and 449 feet in width. With an almost perfect outline, it may appear to be man-made or artificial, however, the phenomenon is natural. The face of the Arrowhead consists of light quartz, supporting a growth of short white sage. This lighter vegetation shows in sharp contrast to the surrounding chaparral and greasewood.