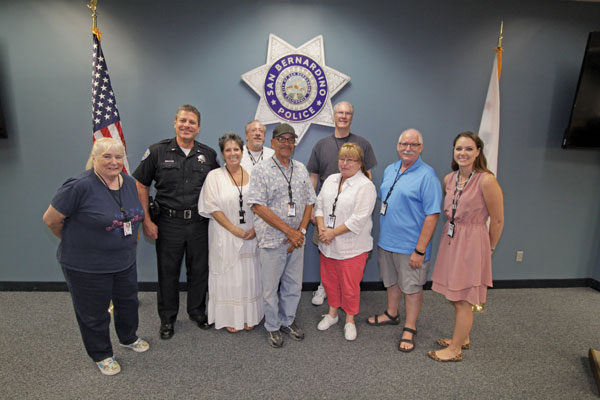 The San Bernardino Police Department is actively looking to recruit additional members to its Citizen Patrol Unit. To become a member of the Citizen Patrol Unit the candidate must be able to pass a background check, able to volunteer at least 16 hours a month, and be willing to go through a training program, which may take several months to complete.
A Citizen Patrol member may choose from a variety of assignments throughout the department. Some volunteers are assigned to the Detective Division, which keeps them indoors. Other volunteers may choose to work the surveillance cameras in the Dispatch Division. Most volunteers like to work the streets in the Patrol Division. Still, many volunteers choose to work multiple assignments at one time.
Currently, the Citizen Volunteer Unit is operating out of the Public Affairs Division headed by Lt. Michael Madden. Citizen Patrol Volunteers are trained in radio operations and communications, the use of an MDC (Mobile Data Computer, which is in every police vehicle), traffic control, department policies and procedures, and basic city geography (street layout, street names, etc.).
Citizen Patrol Volunteers are able to issue parking citations, tow vehicles, assist in DUI (Driving Under the Influence) Check Points, support officers in the field, and can work on various Public Affairs events.
Citizen Patrol Volunteers are in uniform for most assignments, and are issued a badge after passing a probationary/training period. Guns are not issued, and the Citizen Patrol Volunteers are not sent to places where safety issues are a concern.
Most Law Enforcement agencies have a volunteer program of some sort. Call your city's Police Department if you have any questions. For more information on the San Bernardino Police Department's Citizen Patrol Volunteer program; contact the Public Affairs Office at 909-388-4993.
---
Join our newsletter for weekly wrap-ups of our community coverage, exclusive advertising opportunities and local business specials!