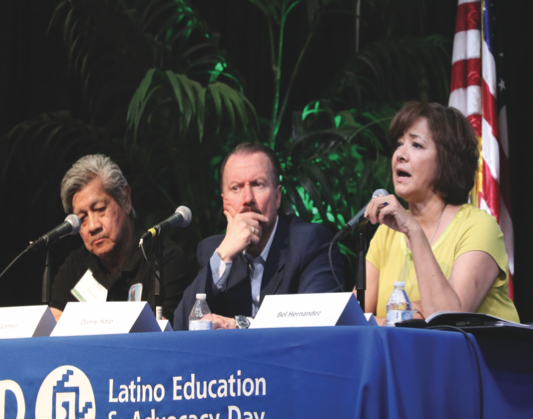 Cal State San Bernardino's Latino Education Advocacy Days (LEAD) celebrated its eighth year with its annual Summit that addressed issues pertaining to students and educators in the Latino community.
Several panels were organized by educators and policy experts during the LEAD Summit on March 30 to discuss social, political, and economic barriers that hinder Latino educational attainment.
The LEAD Summit, which was first held in 2010, now has the potential to reach and engage nearly 300 million viewers, listeners, readers, attendees, displays, and impressions, Murillo said in his welcoming remarks. The Summit's theme, 'Sin Fronteras', focused on defending the rights of underrepresented students and proposing solutions to improve education.
"Today we stand united," said LEAD Founder and Executive Director Dr. Enrique Murillo. "We will work with learning communities to help us defend our basic rights and promote the reflection and exchange of experiences in favor of universal quality education."
Only 12 percent of Latinos residing in the state have obtained a Bachelor's Degree, according to The Campaign for College Opportunity. Specifically, about 2 in 10 (136,300) Latino undergraduate students attend a Cal State University, while 1 in 20 (40,900) attend a University of California campus.
While there was a 350 percent increase in UC applications and a 1.7-percent increase in admissions, about two-thirds of Latino applicants were rejected from UC campuses.
Experts recommend state leaders to implement policies that address barriers to higher education and develop a transparent process that informs the public about funding measures that support student and teacher development.
"Our Latinos deserve better and we should demand it," said Raquel Simental, Director of External Relations and Communications for Educational Trust West. "While current reforms bring hope, it is clear that California needs transformative change."
California Community Colleges are continuing to open opportunities to Latino students, explained the state system's Chancellor Eloy Ortiz Oakley. He said more work needs to be done to make community colleges "Hispanic graduating institutions."
"We need to give our young people credentials," Oakley said. "The responsibility lies within each and every one of our colleges. We know there is a crisis. In order for our nation to succeed, we need to embrace every single asset in our community."