Supervisor Baca Jr. and Councilman Echevarria Honor Colton's Legendary 2023 Youth Sports Teams at City Hall
2 min read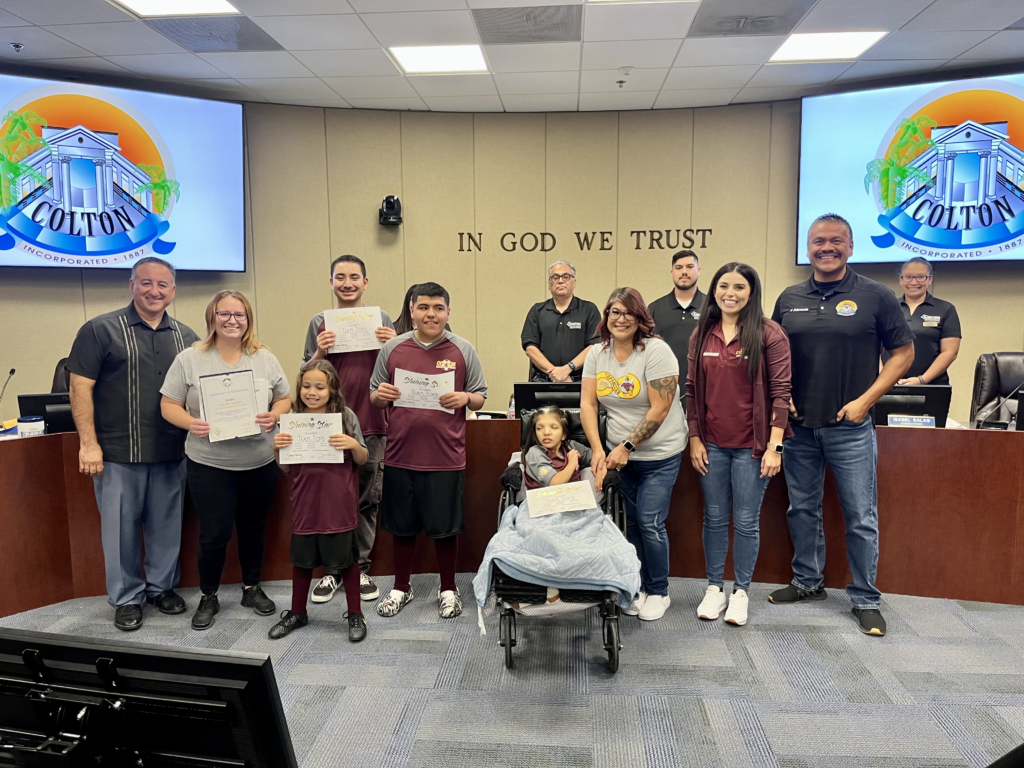 In a grand event held on September 20th, 2023 at the Colton City Hall, the city's Recreation and Parks Commission spotlighted the accomplishments of local youth sports teams that have elevated the community's spirit and reputation.
Supervisor Joe Baca Jr. and Councilman John Echevarria presented each team with a certificate of recognition, acknowledging their hard work, dedication, and contribution to Colton's sports legacy.
The council chambers were abuzz with excitement as over 100 proud parents and families filled the room. The atmosphere was electric, with attendees eagerly awaiting the moment their child would step onto the Dias, receive their certificate, and shake hands with the city's leaders.
Colton has always had a robust sports following, and the recognition of these teams further cements the city's commitment to nurturing and celebrating local talent. The dedication and perseverance of these young athletes have not only made their families proud but have also earned the admiration and respect of the local government and the broader community.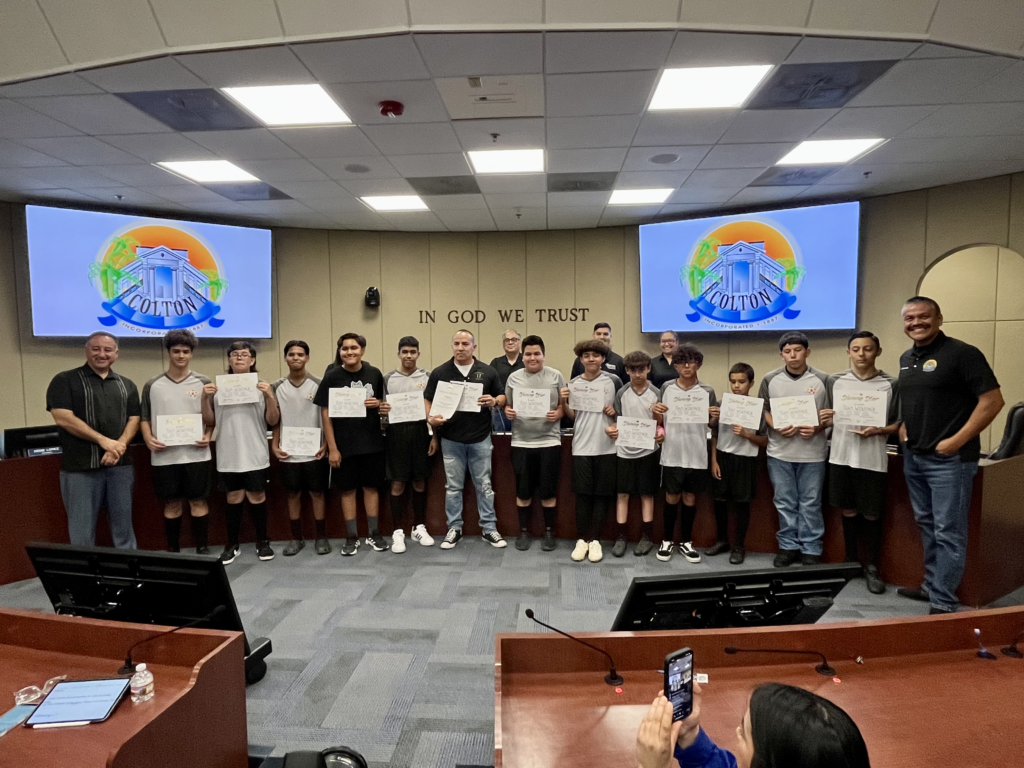 The teams that were recognized include:
Colton Pony Baseball Teams
Division: Bronco
Team: Rockies
Manager: Josh Rodriguez
Ruben Gutierrez
Dereck Aparicio
Dominic Guerrero
Jordan Orozco
Jace Rodriguez
Zane Barron
Luke Medina
Francisco Delgado
Recce Vasquez
Yarley Ibarra
Joaquin Arrieta
Noah Thompson
Division: Pony
Team Name: Dodgers
Manager: Edward Pedroza
Freddie Herrera
Carlos Jaramillo
Edward Pedroza
Matthew Pedroza
Jacob Murdocte
Isaac Villa
Charlie Santiago
Eduardo Suarez
Christian Ruiz
Abraham Olmeda
Nathaniel Olmeda
Adam Wevair
Carl Rimbaugh Softball Teams
Division: 14u
Team: All Stars
Manager: Maggie Valenzuela
Coach- Manny Valenzuela
Coach- Joel Gallegos
Bella Armendariz
Audrina Armenta
Serissa Castaneda
Gabriela Gallegos
Ilene Garcia
Leila Garcia
Jaida Guillen
Karlee Navarro
Mariah Ornelas
Alyssa Ortiz
Raylene Pasillas
Serenity Villegas
Division: 12u
Team: All Stars
Manager: John Murillo
Coach- Kyle Acosta
Coach- John Murillo Jr.
Malyssa Ariyah Abasolo
Kenzie Acosta
Aubrie Rae Esquer
Juliana Guadalupe Herrera
Leilani Lopez
Arianna Mae Murillo
Francesca Sofia Navarro
Myiah Quezada Alcala
Maxine Rios
Larissa Rodriguez
Angellisa Valenzuela
Avalynn Valenzuela
Colton Youth Soccer Teams
Division: TOPS
Coach: Jasmine Sandoval
Team Mom – Teresa Negrete
Players who confirmed:
Joseph Saldivar
Sophia Negrete
Abraham Topete
Jacob Reynolds
Maurice Pinkney
Jayce Ortega
Xavier Lucero
Dayanara Pena
Division: U14
Team Name: Wolfpack
Coach: Vince Quiroz- coach
Rosa Quiroz-Rodriguez – assistant coach
Vanessa Quiroz – team parent
Mark Reynolds Jr
Julian Lopez
Urijah Quiroz
Christian Campos
Jose Martinez
Eduardo Gomez
Vincent Escobar
Ivan Santillanes
Emmanuel Gomez
Rudy Ceballos
Alan Alvarez
Reuben Ayala
Ulysses Rodriguez
Colton Nighthawks Team
Coach: Ruben Montano
Assistant Coach: Scott Combs
Assistant Coach: John Prieto
Trent Abel
Noah Audrunas
Mason Edwards
Ryan Halamicek
Hudson Harrison
Tyler Holley
Chad Horton
Eric Jeon
Logan Kelly
Ryan Kroepel
Josh Martinez
Bryan Martinez
Roman Meyers
Marcus Moyer
Diego Ortiz
Andrew Parker
Garrett Patterson
Marcos Rosales
Jarren Sanderson
Josh Torres
Braden Wauschek
Matt Wurmlinger
Ryder Young