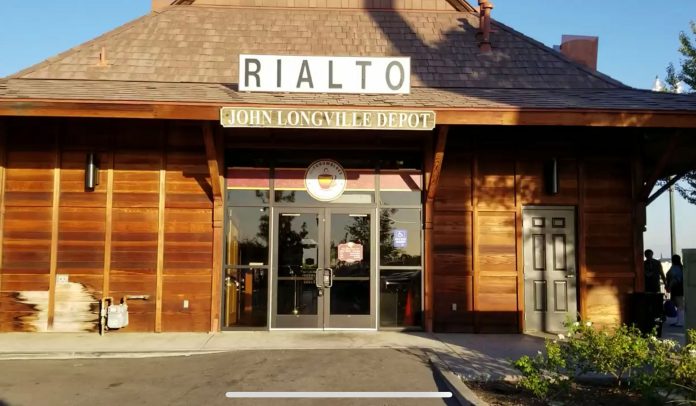 The Forum Blues Café is not only the next big thing in Rialto…it's the biggest brand new restaurant at the city's Metrolink station.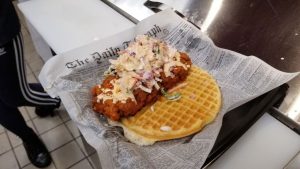 The Southern and Mexican infused café has only been open for two months and it's already the talk of the town.
"I wanted to do something different, something that stood out. Music brings many cultures together and I knew that tying in music with the food would make it a unique dining experience by featuring blues and mariachi music," said owner Terrance Harper.
Harper shared that he studied Rialto's demographics and soon realized that he wanted to create a culturally diverse café.
"Well, I wanted to put something in Rialto that fit the demographic. My two favorite foods are Mexican and Southern. What is better than waffles and tacos? Not much. I did not want to be boxed-in; I did not want to create just a chicken and waffle spot or just a Mexican restaurant. I wanted to deliver a diverse cafe and bring these two cultures together," continued Harper.
He says the most popular dishes served include Wings N Waffles and an entrée called The Whole Enchilada.
"We hand batter all of our chicken. We don't buy frozen items…we put some love into it," Harper said.
He describes The Whole Enchilada as a fresh, authentic Mexican dish, but with a twist.
"The Whole Enchilada is waffle based. I take fresh masa, the same masa used to make waffles and I make tortillas out of it. Then I put carne asada, cheese and enchilada sauce. Then add another tortilla on top of it. Then I close the waffle maker and out comes this crazy item called The Whole Enchilada," said Harper.
He then tops the enchilada with cheese and rancho chorizo sauce, guacamole and sour cream.
Another huge factor this mom and pop café has to its advantage is that it is located in the center of the Rialto Metrolink Station.
"We're located in the heart of Rialto, at the Metrolink station. We've literally turned the café into a bluesy and mariachi hub for food and music lovers alike," continued Harper.
The Forum Blues Café features what Harper calls 'The Sound Chair' where locals can come in and not only perform, but are also given a built in audience through the café.
"My idea with the sound chair is to give anyone with musical talent an opportunity to get up on stage and have a platform to showcase their talents in front of an audience. It's great because then they can also turn around and Facebook and Instagram live the experience," said Harper.
Overall, the restaurant's goal is to bring cultures together through food and music.
"Thank you to those who supported me through the journey of opening The Forum Blues Café. It touches my heart to see the people in the community come out and enjoy the experience. Firefighters, police officers, and local dignitaries have all stopped by to eat and we are thankful for the love and support. We want to be that staple in the heart of the city," continued Harper.
Although the café is just weeks old at this point, it has already garnered many five star reviews on Yelp, which may be partly due to the fact that the owner/ chef sits down and converses with guests every single day; after cooking them a fresh home-cooked Southern and Mexican dish.
The Forum Blues Café is located at 261 S. Palm Avenue, Rialto.
For more information, call 562-7542.