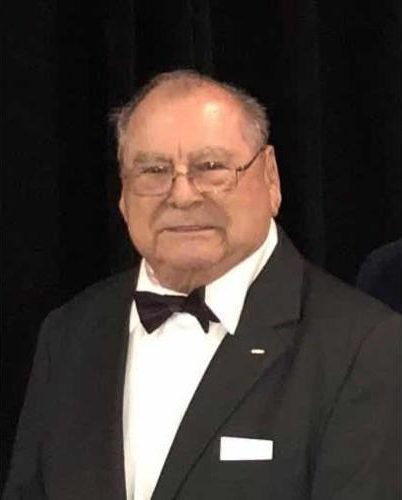 Thomas A. Archuleta Sr. passed away June 10, 2023, at Loma Linda University Medical Center after a brief illness. He was born June 23, 1938, in Riverside to Jacob and Jessie Archuleta. He graduated from Colton High School in 1956 and joined the U.S. Air Force in 1958. He was stationed at Oku Shiri Island AB, Japan, as a Ground Radio Operator and later transferred to Lowry AFB in Denver, Colo. His career in the Civil Service began in 1960 when he accepted the position of Missile Maintenance Technician at Norton Air Force Base in San Bernardino. In 1976, he became the first Budget Officer with the 452nd Air Mobility Wing at March AFB in Riverside County. He served the base with distinction for 34 years, retiring in 1994.
Tom was a professional trumpet player for local bands until 1980. A lifelong Colton resident, he dedicated more than 30 years of volunteer service to the community. He served the Colton Terrace Little League Cardinals and Spirit teams as manager and coach and managed the Pony, Colt, and Palomino baseball leagues. His love for the Colton community continued, and he served as the city's Planning and Utility Commissioner until 2018.
Tom was preceded in death by his parents and brothers, Robert Martinez of Casa Blanca and Raymond Archuleta of Highgrove. He is survived by his loving wife of 61 years, Alice; brother David of Colton; sons Tom Jr. (Cindy) of Grand Terrace, Eddie of Colton, and Adam (Jenna) of Varna, Ill.; grandchildren Joe Hernandez (Marisa) of Morton Grove, Ill., Tom III (Alicia) of Riverside, Sara of Grand Terrace, and Amy, Monica and Luke of Varna, Ill.; great-grandchildren Odetta and Apollo Hernandez of Morton Grove, Ill., and Maxine Elias of Grand Terrace; and many nieces and nephews.
Visitation is scheduled for 4:30 p.m. to 8 p.m. Wednesday, June 28, at Montecito Memorial Park & Mortuary's Main Valley View Chapel, 3530 E. Washington St., Colton, with a Rosary at 6 p.m. Funeral Services will be held at 10 a.m. Thursday, June 29, at Immaculate Conception Church, 1106 N. La Cadena Dr., Colton, with burial to follow at Montecito Memorial Park Cemetery.