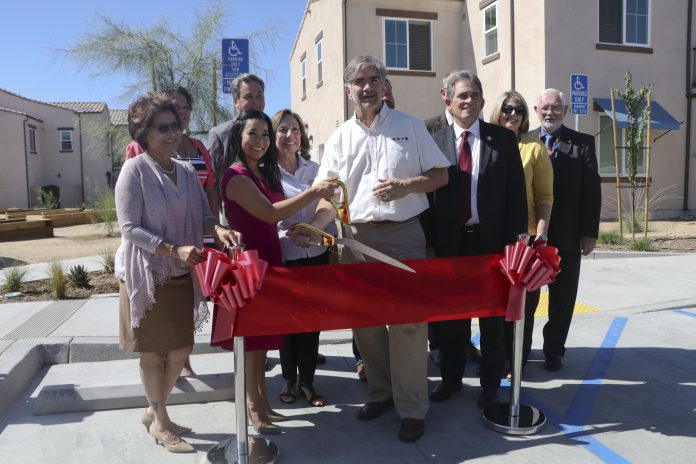 Maria Flores enjoys her new living conditions at Olive Meadows, formerly known as Waterman Gardens, apartment complex. The nice landscape and newly planted trees gives it a better "homey" look she explained.
Flores sensed that the aging World War II-era style housing project was no longer a welcoming place for her to reside in. Incidents of crime and concerns with living conditions almost drove her to look elsewhere.
"I no longer felt safe there," Flores said in Spanish. "Many of us were beginning to live in fear."
The concerns of residents like Flores is the reason why National CORE and local officials launched the Arrowhead Grove housing project in San Bernardino over two years ago to address residents' concerns of safety.
On Thursday, National CORE, along with city and county officials, celebrated the completion of a second apartment building near the historically troubled area of the city.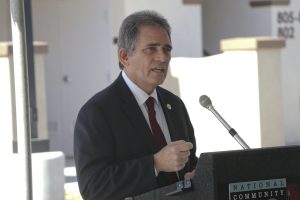 The opening of Olive Meadows–an affordable 62 apartment unit housing complex–is the first phase of the Waterman Gardens on-site revitalization project. Last year, National CORE, with the help of community partners, marked the opening of the Valencia Vista complex several blocks away.
Housing improvements in that area of the city–one that continues to be riddled with blight and crime–will attract economic development and encourage social stability, remarked National CORE founder and chief executive officer Steve PonTell.
"There was a lot of neighborhood doubt about what we were doing," expressed PonTell. "This is just the beginning. We've taken another step forward for the commitment and improvement of San Bernardino."
PonTell and city leadership say Arrowhead Grove is the lynchpin of the Waterman+Baseline Neighborhood Specific Plan–the comprehensive redevelopment strategy that will include 1.2 million square feet of new employment and commercial space that includes 2,400 new housing units.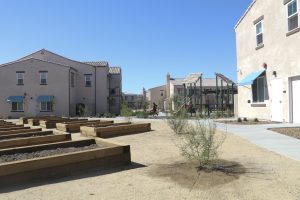 In total, Arrowhead Grove will include 400-plus new housing units, several community centers, educational and health support services to end the cycle of poverty.
Leaders like San Bernardino County Fifth District Supervisor Josie Gonzales believe the Arrowhead Grove housing redevelopment plan is a "critical element" for the success of people in any neighborhood.
"This project is the renaissance of what once was Waterman Gardens," said Gonzales. "It presents County of San Bernardino families with new opportunities to live, to learn, to grow."
San Bernardino Mayor Carey Davis confirmed that the next phase of the project will include mixed income housing, which he claims is the next vital step for the improvement of the Waterman Gardens area.
"I think [National CORE] sees [that] the core part of this mission is to change the quality of our community," Davis said.
---
Join our newsletter for weekly wrap-ups of our community coverage, exclusive advertising opportunities and local business specials!