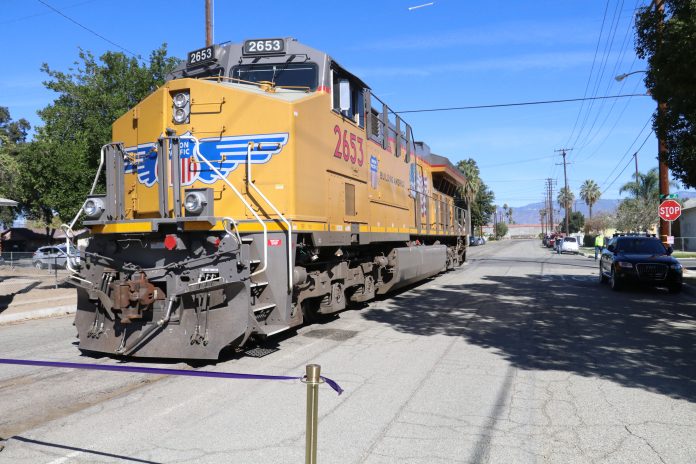 After years of enduring loud noise and soot emissions, the residents of South Colton in a matter of weeks will have a paved road down 9th Street.
The city's leadership, along with San Bernardino Associated Governments (SANBAG) officials, marked the next step of the Colton Crossing project on October 22 by announcing the removal of an aged railway track that in recent years has been a nuisance.

According to Mayor Richard De La Rosa, the removal of the track and the paving of the road will cost an estimated $12 million and will be completed within 40-60 days.
"Improving the quality of life is our priority," he told those who attended the 9th Street Celebration during the weekend. "We're very proud to be removing this rail."
The removal of the 9th Street railway is part of the larger Colton Crossing project that resulted in the construction of a flyover to separate the Burlington Northern Santa Fe and Union Pacific lines.
Up until last week locomotives with trains still travelled through the 9th Street railway to serve a hardware supply company in the city, officials said.
"To see this in my lifetime is moving," said Councilman Isaac Suchil, who grew up nearby on L Street.
Union Pacific Public Affairs Director Lupe Valdez, who worked with residents of South Colton to remove the railway, asks for the community to be patient as they complete the restoration of the street.
"This community deserves to get their street back," she said. "This is the last time any locomotive will be present here."
Longtime resident Rachel Warner believes the removal of the railway marks another improvement for South Colton.
"We've been fighting for many years," she said. "It's been a long time coming."