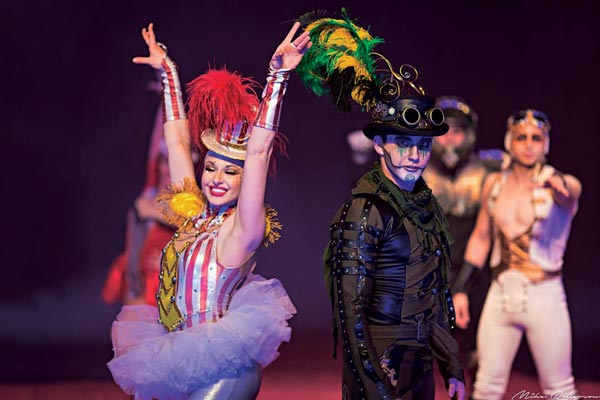 This isn't your typical circus. Circus Vargas is calling out to all Inland Empire residents to pack up and run away on a steampunk adventure under the big top as the company makes its final stop for its 2017 Inland Empire tour in Ontario April 6-17.
Debuting its latest production at Ontario Mills,"Steam Cirque," is a goggles, gears and gadgets-infused retro-futuristic production embarking guests on a science-fiction fantasy, according to a company news release.

The production tells the story of how an "eccentric group of adventure seekers stumble upon a traveling circus in an imaginary Victorian city, far, far-away. Steam Cirque's peculiar protagonist, part magician-part inventor, attempts to industrialize the circus by incorporating his steam powered mechanical contraptions into the ordinary, typical circus rigging, filling the big top with new, imaginative acrobatic apparatus for the artists to perform their acts," the release states.
Wanting to be part of the action?
Arrive 45 minutes early to catch the interactive pre-show celebrations including learning to juggle, balance and other circus skills. Children will also have a chance to mingle and snap a selfie with the circus cast after each performance. Pre-show entertainment is included with ticket purchase.
Ontario Mills Mall is located at 1 Mills Circle in Ontario.
General admission tickets are $17-$27 for children and $27-$37 for adults.
Reserved Ringside seating is $47-$62 for children and $57-$72 for adults.
For Circus Vargas performance dates, times and to purchase tickets, visit www.circusvargas.com or call 877-GOTFUN-1 (877-468-3861).