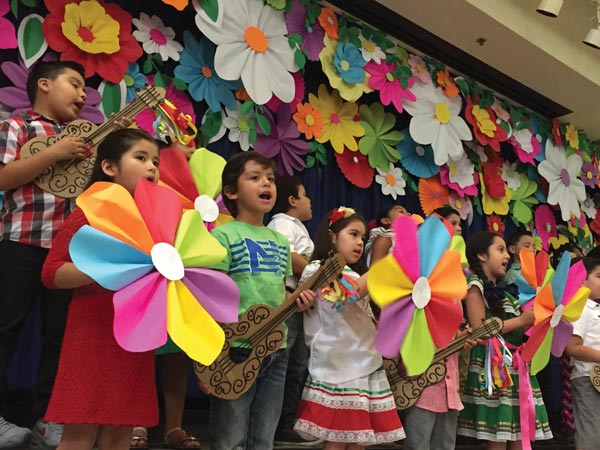 Little bilingual voices filled the multipurpose room at Morris Elementary in Rialto last week.
Singing Joan Baez's 'De Colores,' about two dozen students enrolled in the school's dual immersion program were not only loud in song, but also in spirit as they performed in front on their parents during a special assembly held to show their language skills.

"Buenos dias," said Morris Principal Sylvia Braggs. "Aren't we all so proud of these students!"
Dual immersion programs include native English-speaking students and native speakers of a foreign language. The goals of dual immersion programs are to develop bilingualism/biliteracy, academic achievement, and cross-cultural competencies for all students.
Morris is one of four elementary schools in the district offering a dual immersion program. Boyd, Kelley and Garcia make up the other three.
RUSD dual immersion:
Who can be a part of Dual Language?
• Students who begin Kindergarten in August 2017
• Native English speakers, native Spanish speakers or bilingual students
• Kindergarten enrollees from all areas of the Rialto Unified School District
What are the benefits of the Dual Language Immersion Program?
Current research shows that learning a second language can benefit students in the following ways:
• Accelerate academic success
• Enhance communication skills
• Develop an appreciation for diversity
• Gain future personal benefits such as enhanced career, business and travel opportunities
For more information about the dual immersion program, call the district's english learner programs office at 909-820-7700 ext. 2322.