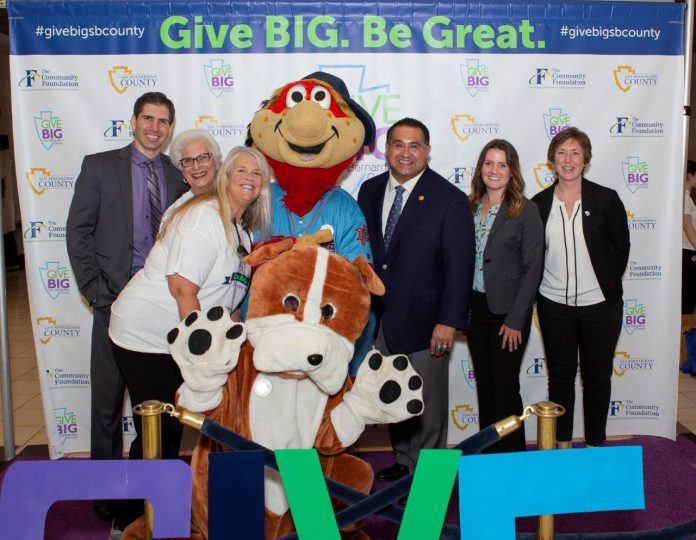 Donors from across the region and beyond gave $239,203 to 107 nonprofits in just 24 hours during Give BIG San Bernardino County.
Now in its fifth year, Give BIG San Bernardino County has raised more than $1.5 million for over 333 local organizations in every nonprofit sector, from the arts, environment, veteran services, health, seniors, education, and so much more!

"Donors throughout San Bernardino County proved once again they have big hearts for Give BIG and we thank them for supporting our local nonprofits and charities," said San Bernardino County Board of Supervisors Chairman Robert Lovingood. "We're also proud of the nonprofits for embracing training opportunities and learning new skills in the buildup to this campaign, which has helped them expand their donor base and raise more money to improve their services throughout the county."
"In 24 hours, San Bernardino County came together for a day of generosity that illustrates how much the people in San Bernardino care about keeping our region strong," said Michelle Decker, President and CEO of The Community Foundation. "What's really exciting is that the platform remains open for people who wish to continue supporting these nonprofits year round."
In total, 4,682 donations were made. Amounts range from $5 to $8,600. The largest gift was given to The Unforgettable Foundation in Redlands. Friends of Big Bear Valley received the greatest number of donations (1,014). Morongo Basin Humane Society raised the most money ($18,140).
Thanks to funding and support from the County of San Bernardino Board of Supervisors and the contributions of generous supporters, Give BIG San Bernardino County also provided valuable training to nonprofits in the use of social media, cultivating relationships with donors, media/marketing, and raising much-needed funds from online donors.
"The training received throughout the campaign has been invaluable," said Sandy Smith, Executive Director of Copper Mountain College Foundation. "Additionally, the camaraderie among non-profits is priceless.  The support, sharing of ideas and just having someone in the same situation keeps us motivated and reminds us why we do what we do!"