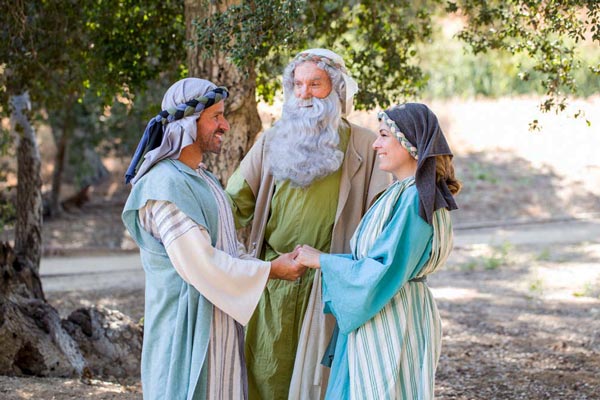 The biblical story of the father of many nations comes to LifeHouse Theater in the new theatrical production, "Abraham and Sarah." The famed patriarchs travel on a musical adventure as they obediently leave their home in Chaldea for the promised land of Canaan. Though unsure of where God is leading, they press on while believing His promises to bless them with a new son, a new home and a new nation.
Performances begin Saturday, July 15, 2017 at 7:30 PM and will continue on weekends through August 13, 2017. Performances are Fridays at 7:30 PM, Saturdays at 2:15 PM (except Opening Night) and 7:30 PM, and Sundays at 2:15 PM. In addition to the weekend performances, a Thursday evening performance will be offered on August 13 at 7:30 PM. The performance on Friday, July 28, at 7:30 PM will also feature an interpreted presentation for the deaf.

"The story of Abraham has been one of the most requested biblical stories by our guests," comments LifeHouse President Wayne R. Scott. "We are staging a faithful and entertaining production of this remarkable story, as well as the impact his wife Sarah had."
"Abraham and Sarah" is written by long-time LifeHouse veteran performer and director Rick Arias, who also plays the part of Abraham. "This has been a labor of love," explained Arias. Additional script and lyrics were provided by Jane Cason and Sandra Hendrickson. Nathan Smith serves as director for the musical. Smith's production staff includes choreographer Alyssa Quast, music director Jeremy Yeo and costume designer Cristy Conrad-Wiley. Scenic design is by Mark Perrenoud.
This original musical features a cast of more than thirty performers from all over the Inland Empire. Joining Arias on stage are Virginia Watterson as Sarah, J. Wiley as Lot, Rich Lampe as Terah, Marie Arevalo as Hagar, Dane Bundy as the Narrator, and Robert Rosenquist as Pharaoh. Also in featured roles are Alexander Gollihar, Ashley Mendoza, Denise Garcia, Adam DesJardins, Darryl Wheeler, Megan Bundy, Tom Williams, Jacob Bates, Jordan Crother and Lucca Savino.
Advance ticket prices are $18 or $24 for adults and $9 or $12 for children ages 3-11 (no children under 3 are admitted) and can be purchased over the phone with a Visa or MasterCard by calling (909) 335-3037. Tickets are available online at boxoffice.lifehousetheater.com.
Checks can also be mailed to LifeHouse, provided reservations are made far enough in advance. Tickets may also be purchased in person at the box office, which is open Fridays from 1:00 PM to 6:00 PM and one hour prior to performance times on the weekends. Tickets are $2 more the day of the performance. Group rates are available for groups of ten or more. Guests are encouraged to reserve seats early as performances do sell out.