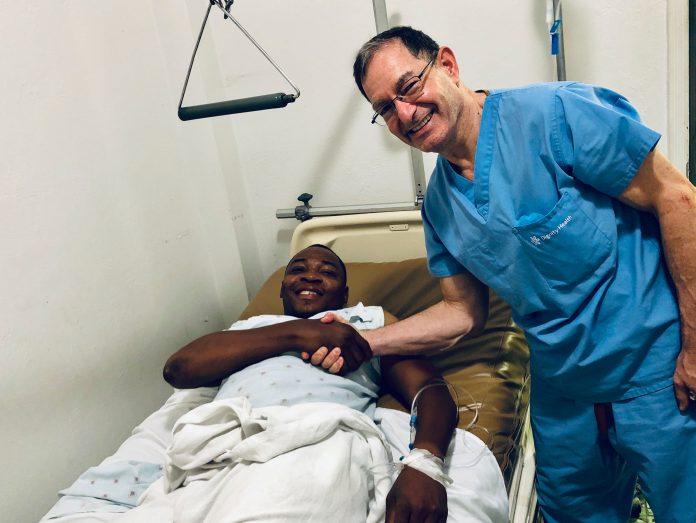 Paul Burton D.O. boarded a plane Memorial Day Weekend, but he had no plans for going on vacation. Instead, the orthopedic surgeon, who is affiliated with Redlands Community Hospital, set out on a six-day mission to perform life-changing joint replacement surgeries for the people of Haiti.
In the Caribbean, Haiti is still recovering from the destructive 7.0 magnitude earthquake in the fall of 2010. Dr. Burton joined his friend and fellow orthopedic surgeon, Dr. Scott Nelson, who started a program to perform joint replacements for Haiti's most vulnerable community members, where nearly a quarter of the population lives in impoverished conditions.

"The majority of patients we treated had injuries from the earthquake in fall of 2010," said Dr. Burton. "Many have been suffering with disabilities for years."
Accompanied by orthopedic surgeon Dr. Travis Scudday and pre-medical student Mikayla Carlson, the three worked tirelessly in a makeshift operating room out of a hospital in the nation's capital of Port-au-Prince.
"We had finished four total hip replacements and two ankle surgeries on our first day in the operating room," said Dr. Burton. "By the end of our six-day mission, we had treated 14 people. I plan on coming back once or twice a year to continue helping Haiti's most vulnerable community members."
In addition to helping those who were injured in the 2010 earthquake, Dr. Burton's team also treated a 45-year-old man who has been on crutches for a decade with disabling hip pain from a developmental ailment.
"I left with immense gratitude to everyone involved for making this mission possible and transforming these lives," said Dr. Burton. "Our challenges this week were all worth it to see the positive changes in the community."