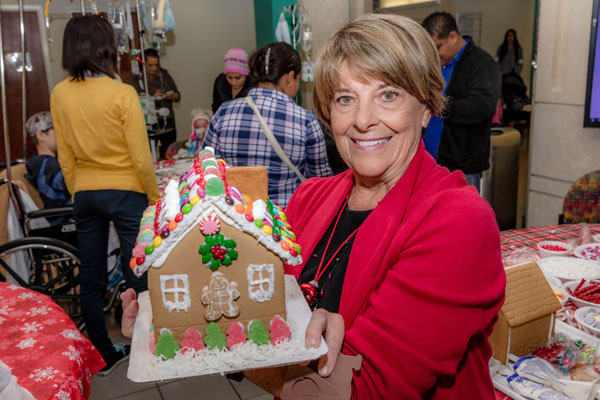 What started as a chef who baked cookies for a few sick kids has developed into one of the most meaningful Christmas displays in the greater San Bernardino region. Through the work of 130 patients at Loma Linda University Children's Hospital, the Gingerbread Village has grown into a full blown exhibit that can be viewed through December in the lobby at the Children's Hospital.
Volunteer Dixie Watkins explained that the baker who initiated the Gingerbread Village project 17 years ago was a patient at Loma Linda University Hospital. "He would bake different parts of a gingerbread house and the children would glue them together to build and decorate their own house. We'd then put them on a small display," said Watkins. "The growth of the fun project had increased to the point where the baker couldn't continue and now Costco donates all the cookie parts and the candy decorations. Each child's house is identified with a stand up tag that is shown behind a white picket fence."

To help celebrate their grandiose Gingerbread Village, children who are able can have their picture taken with Santa and receive goodie bags with teddy bears and books. Watkins told of corresponding projects like the Tree of Hope Campaign and Carols in the Lobby. She said displays include angels in Christmas trees as a backdrop to represent the memory of children they have lost.
Along with serving as a diversion for those hospitalized with major illnesses at Loma Linda University Children's Hospital, Watkins told of the charitable Big Hearts for Little Hearts Guild that helps with fundraising. Watkins founded the organization in 1999 and has since served as its president as needed. She explained that Big Hearts for Little Hearts is affiliated with Loma Linda University Children's Hospital but is a separate, private non profit group.
Watkins said the sole purpose of the guild is to support the care of patients and their families. She told of year-round fundraising efforts that help pay for health care for the young patients. A fact sheet provided by Big Hearts for Little Hearts Guild shows it and three sister Guilds have a combined 370 members who raised $317,000 last year. Since its formation in 1999, the Loma Linda Chapter has raised $1.6 million in total funds for those at LLU Children's Hospital.
The Guild held its annual Holiday Tradition Dishes for Wishes fundraiser in October, featuring special menus prepared by local restaurants that are served to guests by police and fire volunteers. It will host its annual membership luncheon next month at the Redlands Country Club. Other events the Loma Linda Guild has hosted are fall and spring readings, Valentine Party's, Luke's Birthday Bash, and the Family Fun Fitness 5K & Expo.
Watkins got involved with volunteering at LLU Children's Hospital after she and her husband graduated from Loma Linda University School of Medicine. She was on the founding board in 1996 of the Ronald McDonald House. She noted huge gains in curing Children's leukemia, the once nearly fatal blood disease that can now be cured 95 percent of the time. She welcomes new members to the Big Hearts for Little Hearts Loma Linda Guild.
"With all the bad news out there, seeing the children having a good time is a real good news story," concluded Watkins.
(Fanny and Dan D'amelio contributed to this story.)