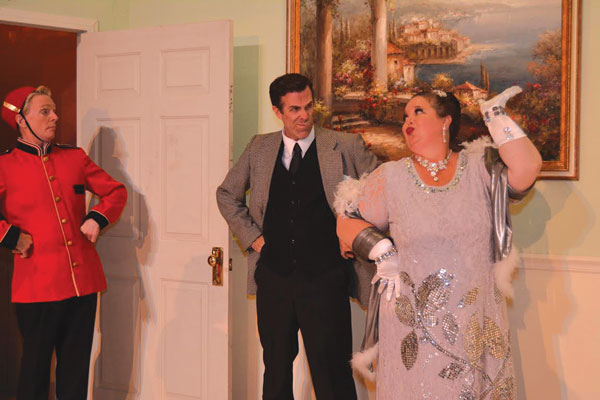 Rialto Community Players opens its 2016-17 theatre season this weekend with "Lend Me A Tenor," hitting the stage Sept. 10 at 8 p.m at the Sandra R. Courtney Community Playhouse.
Written by Ken Ludwig and directed by Hedley Duncan, "Lend Me A Tenor" kicks off the season with slapstick craziness as world-famous tenor Tito Morelli is to perform in Otello at the Cleveland Opera Company. Through a series of mishaps, Tito receives a double dose of tranquilizers, causing the house manager to believe he is dead and setting off a chain reaction of slapstick and mistaken identity.

Lend Me A Tenor runs Sept. 10,11,16,17,18,23,24 and 25.
Looking to hit the stage?
Auditions will be held for two upcoming productions to add to the season — "Fools" and the musical, "It's a Wonderful Life." All auditions are held at the Sandra R. Courtney Theatre at 7 p.m. Auditions will include cold readings from the script. For musicals, 16-32 bars of Broadway-style music must be prepared, and those auditioning must bring their own backup tracks on CD or MP3. There will be no a cappella auditions.
An audition form will be provided for those who do not a have resume.
Upcoming auditions include:
"Fools" – Sept. 13 and 14, at 7 p.m. Character breakdown includes all ages. Written by Neil Simon and directed by Pelve Dimyana Pelev, "Fools" is a story of stupidity.
Leon Tolchinsky is ecstatic. He's landed a terrific new teaching job. When he arrives he finds people sweeping dust from the stoops back into their houses & milking cows upside down. The town has been cursed with Chronic Stupidity for 200 years & his job is to break the curse. No one tells him that if he stays over 24 hrs & fails to break the curse, he too becomes stupid.
Show dates for "Fools" – Oct. 29 and 30 and Nov. 4-6, 11-13.
"It's a Wonderful Life" – Sept. 20 and 21 at 7 p.m. All roles are available: 12 men, 10 women, 2 boys and 2 girls.
Book and lyrics by James W. Rodgers, music by John Higgins, based on the film by Frank Capra and directed by Sandra Cordasco, "It's a Wonderful Life" is a musical adaptation of Frank Capra's Christmas classic. This is the saga of George Bailey, the everyman from the small town of Bedford Falls, whose dreams of escape and adventure have been squashed by family obligations & civic duty. His guardian angel has to descend on Christmas Eve to save him from despair, and to remind him – by showing him what the world would have been like had he never been born – that he has had after all, a wonderful life.
Show dates for "It's a Wonderful Life" – Dec. 3, 4, 9-11, 16-18.
The Sandra R. Courtney Community Theatre is at 150 E. San Bernardino Avenue in Rialto. Productions run Friday and Saturday evenings at 8 p.m. with Sunday matinees at 2 p.m.
General admission is $15, $12 seniors and students.
For a character breakdown for both productions, more audition information or to buy season tickets, visit, www.rialtocommunityplayers.com.