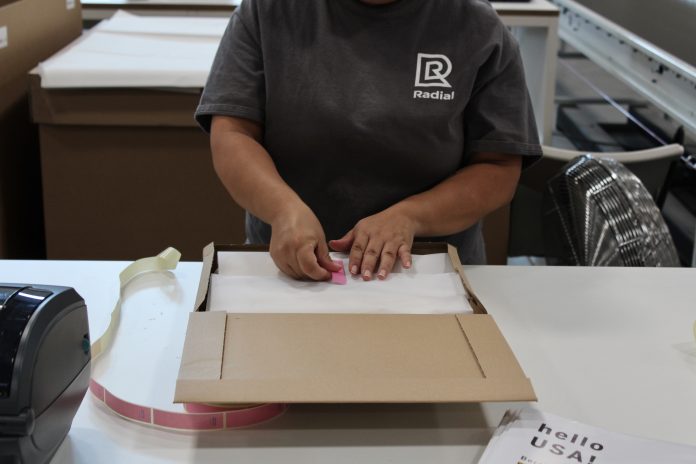 Not every warehouse requires its workers to lift heavy boxes or drive heavy equipment across the floor.
Those were statements made by Radial officials who provided prospective employees a tour of their headquarters in Rialto last week.

Radial, which handles commercial and technological operations for over 200 retailers and brands, moved its operations from Redlands to Rialto in September. The 400,000-square-foot facility will accommodate approximately 950 workers for the upcoming holiday season.
"There weren't any layoffs when we closed operations in Redlands," explained Radial spokesperson Linda De Santos. "In fact, Radial is growing."
De Santos said Radial has hired 40 additional people since August and hired dozens more in recent days. De Santos believes the "light" work environment at the fulfillment center has helped attract more employees.
On-the-spot hiring occurs when a person demonstrates interest in working for Radial after undergoing a lengthy tour, De Santos explained.
"We're giving people a perspective of what the work is like," continued De Santos. "We ask if they see themselves working here. We're looking for people that are honest about what they expect of an employer and people that are looking to stay here in the long term."
Vanessa Sagastume, 22, of Upland said she hopes she gets hired by Radial. Her sister is a current employee, and after witnessing the work environment, she believes she will be a good fit for the company.
"It's something I would do because it's similar to what I've done working retail," Sagastume said. "I feel confident about getting this job."
Among the companies that Radial assists in delivering products to customers is clothing giant Aeropostale. Sweaters, shirts, and shoes from the brand are sorted and picked from racks, packaged for delivery, and shipped out.
"The merchants go out of their way for their customers," De Santos expressed. "We just help provide that personal touch."
De Santos said Radial helps boost the morale of employees by giving them awards and holding events.
Angelica Martinez of San Bernardino, who has worked for Radial for three years, confirmed that she enjoys the atmosphere at work.
"I feel good here," she said. "I like the workers and the management. And we're only helping [Radial] grow through our good work and service."