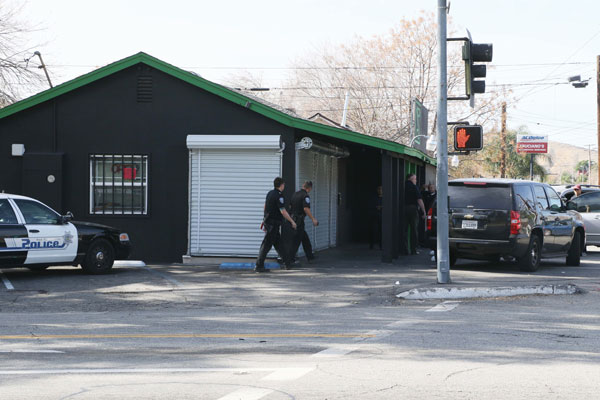 On Wednesday, January 17th the San Bernardino Police Department served a search warrant on an illegal marijuana dispensary located at 40th and Electric Avenue in San Bernardino's north-end. Four people were arrested for a "Health and Safety" code violation for the illegal sale of marijuana.
During the search of the illegal dispensary, many building code violations were noted, and the city's Building and Safety Department red-tagged the premises declaring the building uninhabitable.

Although marijuana for personal consumption was legalized in California, state and city/county licenses are both required for the sale of marijuana in any given jurisdiction that permits the activity.
This article is not going to make any justifications either way on the use, legalities, or the moralities of marijuana. From a layman's perspective, this will try to explain why the sales issue is currently illegal in San Bernardino. It all comes down to licensing and permitting. Since many proponents of marijuana compare the use of it to the consumption of alcohol, I'll make this simple layman's example.
If a liquor store were to open in the City of San Bernardino, one would require a state license, a resale license, and a city license. In addition, the prospective vendor must pass a background investigation, pass zoning requirements, and get approval from the Alcohol Beverage Control (ABC), and various other agencies such as the police department, committees, commissions, etc. If they open a liquor store without going through these processes, they will be shut down.
The same applies to the licensing of marijuana for sale, regardless of jurisdiction. However, selling marijuana has its own unique requirements. At the state level, the policies and procedures have already been established, and no entity may sell marijuana in the state of California unless they have met specific requirements and have the proper state permits.
At the county and city governmental levels, many are still in the process of examining its options and effects on its population and economy. So even if an entity has a state permit, they still must meet and be compliant with all the local laws, policies and procedures. The California Supreme Court ruled that each local jurisdiction can allow the sale of marijuana, and if so, may set their own regulations, fees, policies, and procedures.
There was a posting on the north-end "Nextdoor.com" social media site that announced the closure of the illegal marijuana dispensary. Over 70 replies came back in favor of the closure, and many praising the San Bernardino Police Department's efforts. About 4 postings came back with some derogatory statements and recommendations for the approval of the dispensaries.