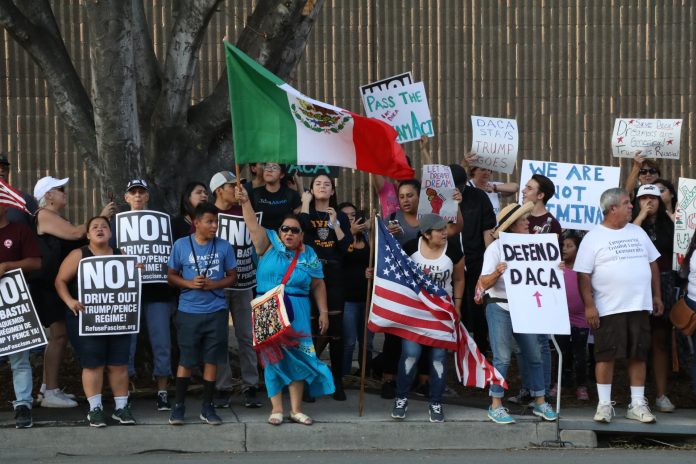 Nearly 400 people converged in front of the U.S. Department of Homeland Security building late Tuesday afternoon to protest the rescinding of DACA by President Trump earlier in the day.
Some 350 demonstrators stood on the north side of Rialto Avenue shouting down pro-Trump supporters on the opposite side of the street. San Bernardino police maintained watch and reported no incidents.

The anti-DACA gathering stood at only about a dozen or so people and supporters said that the Trump decision was a long time in coming.
"What the Obama program amounts to is back-door amnesty," said Robert Edmond Fullerton, a representative of We The People Rising. "You have kids that come here because of these parents and what? They get rewarded and it costs California billions of dollars?"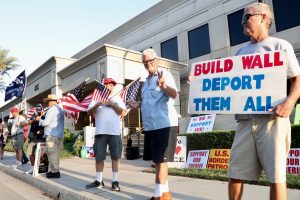 Others were dismayed at the U.S. government's sudden decision to end a program that, in their view, has promise.
"These kids were told at the beginning that if they came forward, committed themselves to training or joined the military, they would be carving a path towards citizenship. It's not American to not honor a promise," retorted an angry Shirley Rice of Wrightwood.
Others agreed.
"We are trying to pull everything together and make America better for everyone," expressed Steve Walker of the group Indivisible San Bernardino who helped organize the rally.
Agustin Perez, whose four children are DACA beneficiaries, said the Trump administration's decision to rescind the program is an unjust action.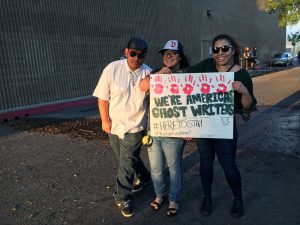 "They're acting with bad intent," an upset Perez exclaimed in Spanish. "A decision needs to be made that will benefit these youth, who have done nothing more than dream for better lives. They've been dreaming for a clear pathway to citizenship. Hopefully they wake up one day to a better life."
Perez's daughter, Blanca Larios, recently received her Bachelor's Degree from Cal State San Bernardino and is a Mathematics teacher at the Options for Youth charter school. She noted that DACA's repeal may result in her losing her job, which will make it harder to raise a family.
"I won't be able to teach," said the 26-year-old mother of three.
When asked if she had confidence in Congress' ability to pass a comprehensive immigration bill, Larios confirmed doubt but remained resilient.
"They haven't been able to do anything in the 24 years I've been here," she said. "It seems pretty grim. But we've faced obstacles before. We'll just continue to show up."
Eric Inzunza Aguirre, 19, said he anticipated the elimination of DACA. However, he said the hearing of the decision is the hardest thing he's had to endure.
"We're going to keep fighting," Aguirre said. "I've done everything right and nothing wrong. Now they're trying to take everything away. What's the purpose?"
Trump's action will now go to the U.S. Congress, which now has sixth months to enact a permanent immigration law.
R.A. Contreras contributed to this story.
---
Join our newsletter for weekly wrap-ups of our community coverage, exclusive advertising opportunities and local business specials!