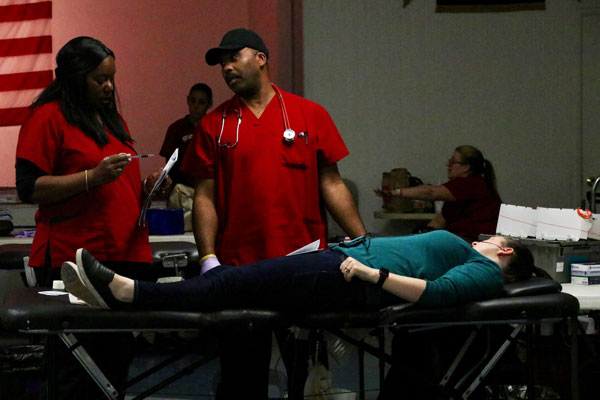 It's a new year of service for Sons of American Legion 155 Commander John Mejia and volunteers.
On February 20 the Sons of American Legion held a blood drive in conjunction with the American Red Cross–the organization's latest efforts to provide a lending hand to help and save others.

"We have to remember that one pint of blood can save up to 3 lives," said Mejia. "Maybe tomorrow someone you know may be a recipient."
The next event the Sons of American Legion will be hosting will be a golf tournament on April 27 to help raise funds to support veterans at the Veterans Home of California in Barstow and help enlisted U.S. Marines at Camp Pendleton.
In July, Mejia and company will be helping the Ronald McDonald House at the Loma Linda Medical Center put on "Christmas in July" for children undergoing medical treatment at the hospital. The annual event helps bring the magic of Christmas and heartwarming smiles to to children and families with gifts and activities, said Mejia. Last year they helped raise approximately $5,000 to support the Ronald McDonald House.
The Sons will follow their summer event with a visit to Camp Pendleton for a Thanksgiving dinner and celebration with Marines. Every year they help construct food boxes–filled with mashed potatoes, yams, green beans, corn, soups, and bread–for both service members and their families.
They'll recap 2018 with a trip to the Veterans Home of California to deliver blankets, socks, caps, and scarfs to veterans.
"Everything that we do is done with love," remarked Mejia.
Wade Monstoller of Murrieta said providing support for veterans, servicemembers, and low income families is a rewarding experience.
"Getting that feedback [from the community] gives you a sense of involvement," he said. "It's wonderful."