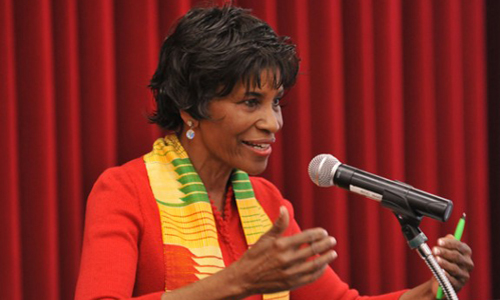 The 30th Black Rose Award Winners areDr. Juanita H. Scott, San Bernardino Valley College Foundation, Humanitarian of the Year; Linda Wright, Moreno Valley Black Chamber of Commerce; Gloria Macias Harrison, President Emeritus, Crafton Hills College, San Bernardino Community College Board of Trustees; Deborah Robertson, Mayor of Rialto, Founder of The Women's Conference; and three honorees for the Black Rose Founder's Award from San Bernardino Community Hospital: June Collison President, Roz Nolan, Chief Nurse Executive Officer, and Dr. Ruby Skinner.
The awards ceremony will also make three posthumous tributes to Black Rose Senior Kings Don Griggs, Jimmy Jews, and Jesse Nichols.
The San Bernardino Black Culture Foundation's 30th Black Rose Award Winners will be recognized at the annual banquet on Saturday, February 4, 2023, from 6:00 pm to 9:00 pm at the California State University, San Bernardino, Santos Manuel Student Union 5500 University Parkway.
In remembrance of Dr. Margaret Hill, the Black Culture Foundation has renamed its Margaret Hill Community Support Award to the Dr. Margaret Hill Black Rose Young Adults Inspiration Award. This award will present scholarships to two inspirational and outstanding San Bernardino Black young adults graduating grade 12 or in college, said Black Rose Committee Co-Chair Kristine Scott.
"This year's Award Gala is held to commemorate Rosa Parks' birthday," said Black Rose Committee Co-Chair Jim King.
Black Culture Foundation President Arlington Rodgers said the foundation's mission is to bridge cultural differences across generations through nurturing, educating, and building lasting, respectable, and encouraging communities.
"The San Bernardino Black Culture Foundation is a 501(c)3 nonprofit organization, founded in 1986 to honor and share the richness of our Black heritage, to recognize world diversity and inspire our youth/adults toward leadership, providing scholarships and career opportunities," said Rodgers.
"The Foundation has prided itself on giving more than 125 scholarships to community students over the years. This is our first event since Covid, and our coffers are bare and in need of replenishment to continue providing scholarships," said Committee Co-Chair Kristine Scott.