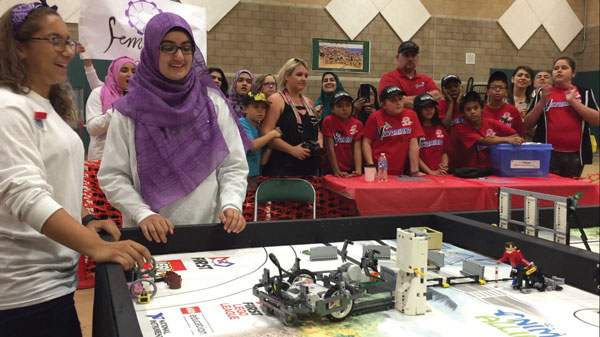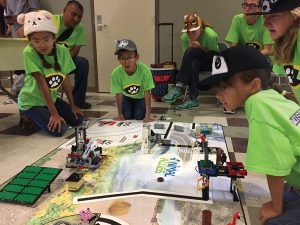 Mission #3: Build an autonomous robot to fit a pig with prosthetic legs and send it to its farm. Complete the mission in three 2.5 minute attempts.
Twenty teams and nearly 170 youngsters accepted the challenge as part of the 3rd annual FIRST LEGO League Robotics Competition qualifying tournament.
The tournament, held Nov. 12 at Rialto Middle School, brought out elementary through high school students from throughout Southern California to think like scientists and engineers to solve real-world problems — with robots.
"It's stressful," said 10-year-old Rhett Bogh, a fifth-grader from Chapman Heights Elementary School in Yucaipa.
"Stressful but so fun and challenging. It's totally worth it when you complete a mission."
Rhett, along with one of his "Wall-e bots" team members, Trenton Reyes, 10, programmed a robot using LEGO MINDSTORMS® technology to solve the pig prosthesis mission.
"It's about measurements and strategy, " said Trenton. "I'm a programmer, this is what I do."
For Trenton, the Rialto competition was the sixth under his belt and for Rhett, it marked the second.
"It's like a thrill," said Rhett. "You learn how to work as a team, help each other out and learn to like robotics and have fun. It's not going to be my last."
The same enthusiasm came from the competition's first all-girl Muslim team — FemSTEM.
"It's exciting but nerve wracking," said team member Salma Rashad, 13.
"It's our first year and we started learning robotics in August. So for us to be here as a rookie team and have a few programs done to be able to compete is a pretty big deal. It's also really empowering to be here, not just as girls in science, but as a role model for others, especially muslim boys. This is an example to follow your dreams."
And the girls went home with more to look forward to, they were among five other teams to advance to the Southern California Championships competition set for Dec. 3 and 4 in Legoland.
Rialto rookie team 'The Magnificat 10' will also advance to compete at Legoland.
This year's event included 20 participating teams, which marks the Rialto event as the largest LEGO League competition in the Inland-area.
To learn more about First Lego League visit, www.firstlegoleague.org.