Aguilar's 'Job For A Day' at the ballpark
2 min read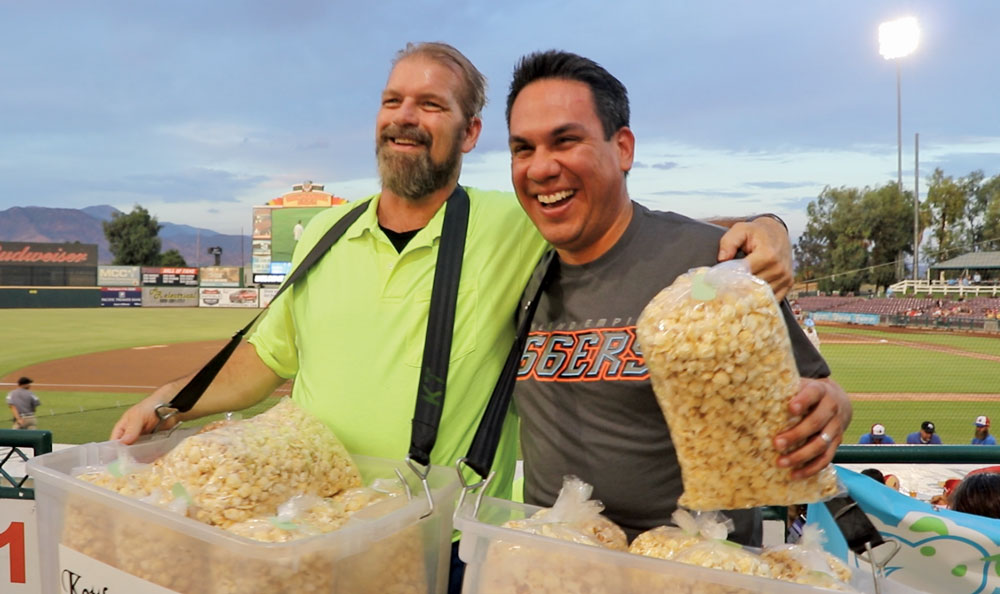 Pete Aguilar is back in Washington D.C. this week–preparing for a legislative season that has him working to resolve immigration and disaster relief issues.
Before his return to Capitol Hill however, Aguilar (D-San Bernardino) sold concessions for the Inland Empire 66ers during their game against the San Jose Giants on August 31.
It was Aguilar's final 'Job For A Day' tour stop for the quarter. The Congressman has previously worked at Mitla Cafe in San Bernardino, at Gerrard's Market in Redlands, the Goodwill store in Rancho Cucamonga, and at Burrtec Waste in Fontana.
Aguilar said the 'Job For A Day' tour allows him to understand the experiences of Inland Empire workers and see first hand their contributions to the local economy.
"This is meant to get me out in the community," explained Aguilar said. "I can see and experience the real jobs that members here in the Inland Empire economy have each and every day."
Selling kettle corn and lemonade to his constituents was an easy task for Aguilar–an avid baseball fan that often takes in ball games with his family. He joked around with other vendors and spoke to local residents that recognized him.
"I appreciate everyone who has spent time with me and shared their personal stories," Aguilar said.
The Congressman hailed the 66ers minor league baseball organization as "great community partners" that are dedicated to serving local residents.
"They provide us with a lot of things to root for," Aguilar expressed. "All of the things [they do] are incredibly positive for the economic activity of San Bernardino."
Ryan English, the assistant manager for the 66ers, said the Congressman's visit demonstrates his accessibility to his constituents.
"We've had a long relationship with Pete Aguilar dating back with his days of Redlands," English said. "I think he's done a great job working with us. It reinforces what he's already been saying."
Redlands resident Thomas Osterberg likes Aguilar's 'Job For A Day' initiative.
"I think he's doing the right thing," Osterberg said. "And he was very friendly when he was selling popcorn."
---
Join our newsletter for weekly wrap-ups of our community coverage, exclusive advertising opportunities and local business specials!