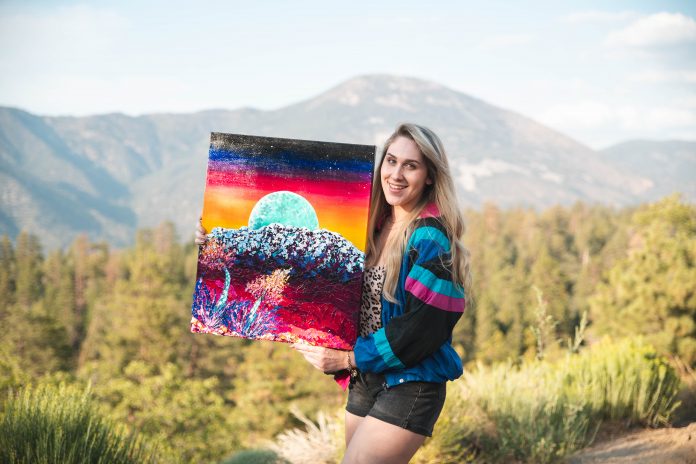 By Adriana Lopez
In 2022 OmniTrans partnered with art communities The Artlands of Redlands and The Garcia Center of San Bernardino to commission artists to paint bus stops. One year later OmniTrans received grant funding through California Climate Investments to bring the project back.
During the second round, OmniTrans commissioned artists to display their work throughout San Bernardino County.
Nicole Ramos, director of marketing and communications, and Anna Jaiswal, development planning manager, saw the project as an opportunity to connect with the community.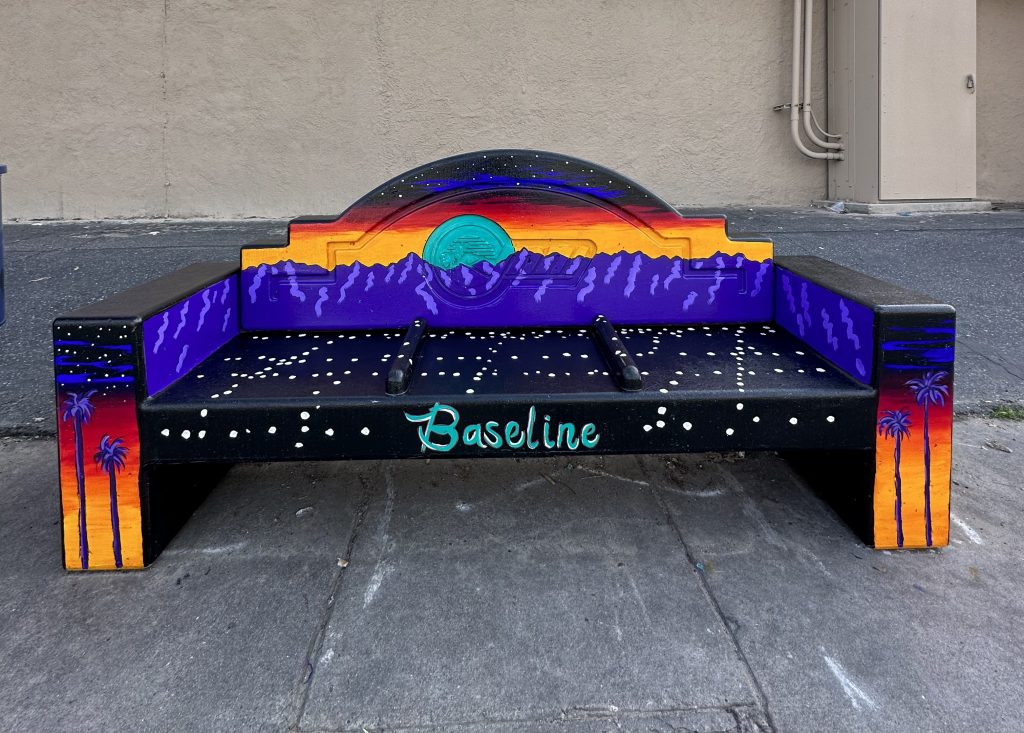 "We wanted to do this with the idea that our San Bernardino transit center is a community hub, not just for transit but a place where people can gather," Ramos said. "We want to engage with the community we serve."
The project led to 10 bus benches being painted, all displaying colorful odes to San Bernardino County. These splashes of color are welcomed decor amongst bus riders.
"One thing we've heard from people is that it makes the bus stop more inviting," Jaiswal said.
Among the artists selected to participate in this year's rendition of the project was Ashley Wright, a Redlands artist who specializes in landscapes reimagined in neon extravagance.
Wright's bench on Baseline Avenue in San Bernardino features a view of the San Bernardino mountains, palm trees, a fruit stand and mission bell. Wright describes the piece as an "homage to past and present."
The project was especially significant to Wright who saw it as an opportunity to offer a creative piece in a city that doesn't have a prevalent art community.
"I live in Redlands so I see how much is invested into arts and culture here and I never see that kind of money get pumped into places like San Bernardino where there could be more murals and art installations," Wright said.
While creating pieces for local communities to enjoy is a goal of Wright's, her larger goal is to advocate for mental health awareness through her art.
Wright's artistic growth and style has been influenced by her journey with complex post- traumatic stress disorder, a diagnosis that she hopes to see officially recognized.
"When I first started painting a lot of my paintings had to deal with that underlying consciousness that I have to deal with, the disassociation, the derealization, and depersonalization," Wright said. "I think for me when I paint it is a form of a flow state."
Through mentorship, Wright has been able to find ways to make enough income to work as a full time artist and dedicate herself to pursuing these goals.
Wright's mentor in this process was Victoria Fry, founder of Visionary Art Collective.
Visionary Art Collective is an all encompassing effort Fry created dedicated to assisting artists market themselves, become financially stable, and increase visibility of artists' work.
Fry quickly became familiar with Wright's aspirations, and saw Wright as a pupil who can make positive change.
"She was really excited to bring art to her community and bridge that gap," Fry said. "Another cool thing about Ashley is that she also wants to spread awareness about the connection between visual art and mental health and how painting can be beneficial to anyone with a chronic health condition or mental illness."
Through her work it is clear that Wright has dedicated herself to her goals, and is only expanding her neon footprint.