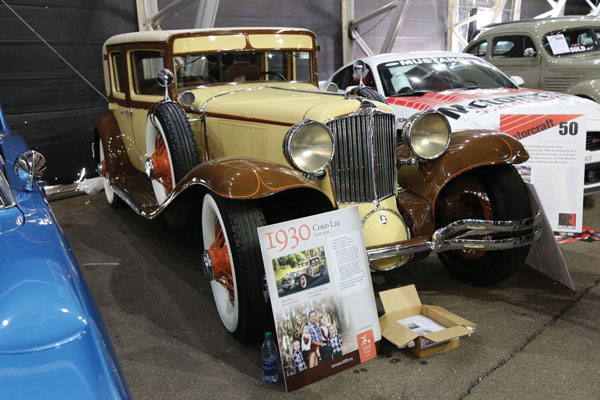 Loma Linda University Children's Hospital is $300,000 closer to building its new tower.
A recent car auction of a 1930 Cord L29 in Scottsdale, AZ, through the annual Barrett-Jackson auction this weekend netted the proceeds, which will go entirely toward the hospital's Vision 2020 philanthropic campaign.
Longtime LLUCH supporters Carlton and Raye Lofgren donated the car to the hospital. The vehicle originally belonged Raye's parents and she said in the release that was part of the motivation behind the donation to LLUCH, a hospital release announced.
"When we were talking about what we could do for Children's Hospital," she said, "we thought that would please us and it would please them."
In addition to the Lofgren's, taking part in the Jan. 21 auction was Courtney Martin, DO, an OB/GYN at LLUCH and her former patient Brittany Stuit, her husband Ryan, and their quadruplets. The group took to the stage during the event encouraging potential bidders by sharing their personal story and experience at the hospital.
Stuit carried her quadruplets until 32 weeks, three quadruplets spent up to six weeks in the NICU, and one stayed nine weeks.
"When I hear the words 'Loma Linda' I can't even begin to explain to you how important they are. Their staff became my family. If it weren't for Loma Linda I wouldn't be a mom. They made all of my dreams come true."
The Cord was one of seven charity cars in the annual Barrett-Jackson auction and earned the second highest final bid among the cars, thanks to the generosity of Paulette and Carpoff.
It was LLUCH's fourth time benefitting from Barrett-Jackson. Most recently in Sept. 2013, a 1957 Lincoln Continental Mark II was donated to the hospital by another Riverside couple, Tom and Candace Spiel. That car sold for $700,000 at the Las Vegas auction and earned the highest bid at the event, all of which went to LLUCH, the release said.
Series is a collective of composers from the Inland Empire who seek to connect with musicians and audiences in a shared love of new music.
To learn more, visit www.facebook.com/IEComposersConcertSeries