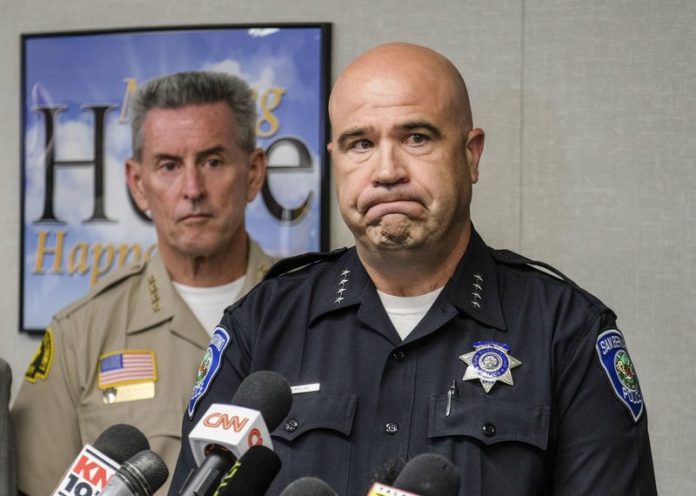 San Bernardino Police Chief Jarrod Burguan said Thursday that San Bernardino is not a 'Sanctuary City' and will have a hard time complying with Attorney General Jeff Sessions' requests to show they comply with immigration authorities.
The Justice Department sent letters to Burguan and four other police departments earlier Today, asking them to confirm their cooperation with U.S. immigration officials or face losing federal assistance to confront crime.

Sessions is asking for the aforementioned cities to honor requests from the Department of Justice to contact the Department of Homeland Security 48 hours prior to releasing undocumented immigrants and possibly detain them for up to 48 hours to permit immigration authorities to take over custody.
Burguan said it would be hard to meet Sessions' requirements because it does not have the apparatus to comply.
"Each of these provisions are directed at jurisdictions who operate correctional or detention facilities," Burguan said in a press statement. "The City of San Bernardino Police Department does not operate a jail facility.  Those individuals arrested by the Police Department are booked and lodged into the custody of the San Bernardino County Sheriff's Department."
San Bernardino County Sheriff John McMahon confirmed in February that he would like to assist federal immigration authorities, but is unable to do so due to current standing policies.
"Those that are wanted by ICE, detained in our facilities, are dangerous criminals," said McMahon. "It's much safer for everybody involved if we could hand off that inmate to the custody of ICE, and they could continue through that process."
San Bernardino, along with Baltimore, Albuquerque, New Mexico, Stockton, have expressed interest in the National Safety Public Partnership program established by Sessions in June. The program utilizes federal agents, analysts, and technology to help find solutions to uncontrolled crime.
Burguan said that he and other city officials were invited by the previous administration's U.S. Attorney from Los Angeles to participate in discussions about the Violence Reduction Network program–the predecessor of the National Safety Public Partnership.
The Police Chief confirmed he will be responding to the Department of Justice's requests in the coming days.
Meanwhile, immigrant rights and faith based groups have expressed anger over what they perceive as "bullying" from the Department of Justice. They are organizing a rally tomorrow afternoon at City Hall to express their grievances. 
"[Sessions] is using illegal immigration as a means to scare people," said Inland Congregations United for Change organizer Sergio Luna. "We're hoping the city doesn't buy into the threats."
Resident Darren Espiritu hopes receiving assistance from the Department of Justice will demonstrate to hardened criminals that city officials are cracking down.
"San Bernardino is known as a place you could go to break the law because of the lack of resources available to law enforcement," said Espiritu. "I hope this sends a message that we're taking a stance. The people deserve better."