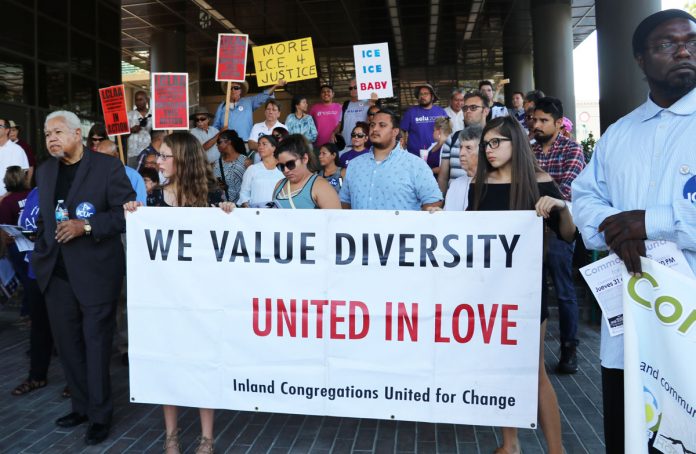 Immigrant rights groups and faith based leaders held a press conference at San Bernardino City Hall on Friday to denounce Attorney General Jeff Sessions' plans to withhold law enforcement funds to cities that don't cooperate with U.S. Immigration and Customs Enforcement officials.
"We're here to send a message to the City of San Bernardino that we're concerned about this letter sent by Sessions," said Inland Coalition for Immigrant Justice Director Javier Hernandez. "We're asking the police department to stand their ground and not work with ICE."

The Justice Department sent letters to San Bernardino Police Chief Jarrod Burguan and four other cities, asking for proof of cooperation with immigration authorities. If the cities fail to comply with specific requirements, they risk losing their eligibility to participate in the department's National Public Safety program.
Burguan said in a press statement Thursday that he would contact the Justice Department and inform them they cannot meet the desired requirements of holding immigrants past 48 hours and contacting ICE for custody because they don't have a jail. That would be the San Bernardino County Sheriff Department's responsibility, the chief confirmed.
Sheriff John McMahon confirmed that he's willing to cooperate with immigration officials, but current law doesn't permit them to do so.
About 70 people attended the demonstration to show support for the immigrant community, while approximately a dozen anti-illegal immigrant activists affiliated with We The People Rising countered with shouts of "No on SB 54" to denounce proposed state legislation that aims to bar law enforcement agencies from collaborating with ICE.
We The People Rising Executive Director Robin Hvidston said she agrees with the spirit of Sessions' letter and is asking Chief Burguan to uphold immigration authority.
"I do hope [Chief Burguan] and city officials pay attention to this and be of spirit to upholding our laws," Hvidston expressed. "I do think [illegal immigration] contributes to crime."
Sergio Luna believes any efforts from the federal government to withhold funds is unethical. He's urging the Mayor and Common Council to not get intimidated by Sessions' threats and continue its focus of reducing crime through the Operation Ceasefire program.
"We just need to keep focused and continue moving forward," Luna said.
Rabbi Hillel Cohn of Congregation Emanu El hopes city leaders will continue to focus on making San Bernardino a place that respects the right of all, including those who have migrated to the U.S.
"We in our city have experienced difficult times and no doubt will experience difficult times in the days and months ahead," Cohn said. "Let us never become entangled in bigotry, intolerance, and stray from the basic ideals that have made America great."