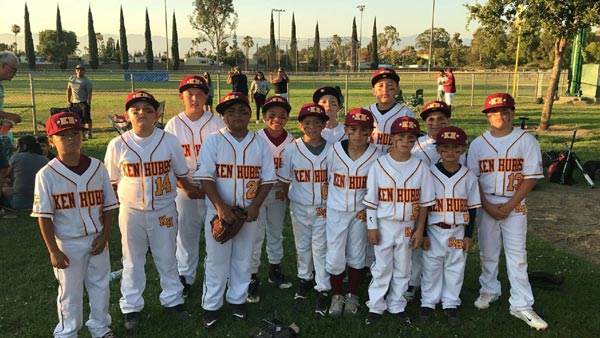 No baseball Little League in the Inland Empire has come close to past accomplishments of Colton's Ken Hubbs Memorial Little League. It's been a long time since the Hubbs all-stars have hoisted multiple championship banners but that's what it did this season by sweeping District 21 titles in three ages groups. The Colton 10's and 13-14 year-old junior's also won the District. Colton's 11-year-olds nearly made it a sweep but lost in the championship game.
Although every age group of all-stars from 9-up now competes for a state or national title, the little league major's consisting of 12-year-olds are still considered  kings. No little league in Riverside or San Bernardino County can rival the kingdom of the former Colton Empire. In 67 years of little league history in the Inland Empire, Colton is the only one able to advance to the Little League World Series championship game in Williamsport, PA. Then known as Colton Lion's LL, it miraculously returned to Williamsport two years later with a completely new roster.
Current Colton little league officials realize a lot has changed since those championship years of the 1950's. None were alive at the time but all have roots that go back many generations. A few are related to Ken Hubbs and all try to teach the youth about Colton's baseball tradition. "Colton is a small community and we try to keep the fond memories of Ken Hubbs alive," said Hubbs Memorial Little League vice president Eric Castillo, who played in the league as did his boys. Castillo doubts most kids know who Ken Hubbs was. "Our board members tell them how awesome Ken Hubbs was." Castillo recalled having Ted Housley and Danny Carrasco attend opening ceremonies in 2014. Carrasco was on Colton's first team to travel to Williamsport. Housley was on the second team that performed with Cy Young in the audience.
The managers of this season's three District winning teams each have fantastic stories about their post season playoff run. Bryce Martinez's 12-year-olds won a thrilling 8-7 game in seven innings over Hesperia to stay alive in the Sectional Tournament. His 12's went undefeated (5-0) in District before being eliminated at Section. Bryce Martinez's son, Bryce is a third generation player at Hubbs LL. Grandfather, Fred Martinez played during the 1970's in the league. "My wife, Tina is a cousin to Ken Hubbs," noted Martinez. "My son knows about Ken Hubbs and most of the other kids know of him, too."
Juan Valdivia, manager of Colton's 13-14 Junior League all-stars just missed a trip to San Jose to play for the Division championship after being eliminated Saturday by Blake Little League of Muscoy.
Valdivia's team had to win three straight games to capture the District 21 championship. Valdivia's son, Juan performed in Hubbs-like fashion with a walk-off base hit against Bloomington to win to give Colton its District championship.
Colton's 10's also won its District banner in dramatic style. Manager Mark Murguia said his team was trailing 9-3 to Hesperia with two outs in the last inning. "Their pitcher dropped a pop fly. If he catches it, they win the championship. We then rallied for seven runs and won it." Murguia said most of his 10-year-old team was actually comprised of inexperienced nine-year-olds. Murguia acknowledged that his team fought off elimination at times by relying more on courage than skill, yet the experience learned this season will push it ahead for the next 3-4 years." Likewise, Murguia and coach Art Chavez both played at Ken Hubbs Memorial Little League and at Colton High School.
The only other league in the IE to earn the trip to the Little League World Series was the 1951 Jaycee Little League of San Bernardino. Ken Hubbs played in that league in 1951 but was left off the all-star team because at the time, nine-year-olds were not allowed. Reports say Hubbs was already hitting home runs over the fence at historic Perry Winstead Park at 7th and Waterman in San Bernardino.
Three years later, Associated Press reports show Colton attracting enormous national attention by winning its trip to the Little League World Series. By 1954, most U.S. homes had television and KTLA was conducting daily remotes about the Colton all-stars. Most didn't have TV in 1951 when San Bernardino went to Williamsport. Thus, less notoriety.
Since Colton's championship game was played against New York, it was televised nationally with hall-of-fame broadcaster Mel Allen at the mike. For one week,  Colton Little League was headlined and was a lead TV news story. Its 1954 team had an unprecedented five players eventually sign MLB contracts. Along with Hubbs, John Doty, Jerry Magness, Tom Hinkle and Norm Housley all signed pro baseball contracts.