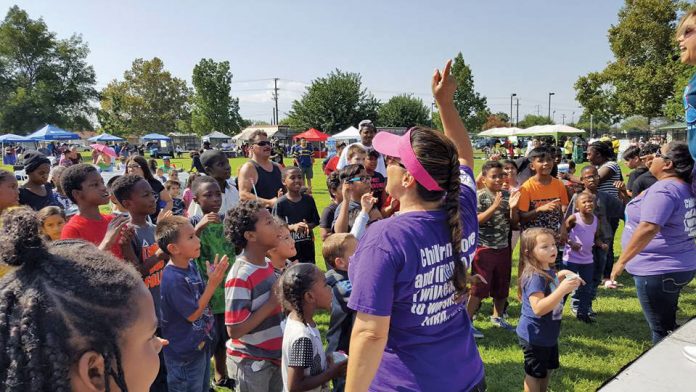 Tucked in between two rival gang turfs, Anne Shirrells Park on Saturday was host to the quarterly San Bernardino Pastors United (SBPU) Community Block Party initiated a year ago as a symbol of unity against violence and to strengthen community accord.
Over 1,500 people received free food, shoes, and groceries as they enjoyed gospel, fellowship and raffle drawings. For the younger ones there were bounce houses, face painting and a children's ministry.
SBPU was founded a year ago in response to the city's spike in violence that garnered national attention. There are currently over 20 local churches of varying denominations that have joined in the effort to effect positive change in a city economically and socially challenged.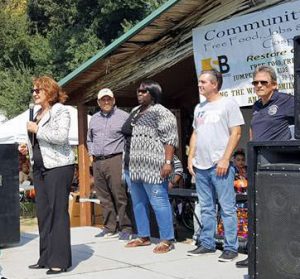 "The churches come together to help people in the community, and people in the community trust that the churches are here to help them," said Senior Pastor Dr. Reginald Woods of Life Changing Ministries. "Elected officials trust us – they're here today – and that's validating. We're seen as legitimate, that what we're doing is wholesome and pure without any political agenda."
Assembly Members Marc Steinorth (R-Rancho Cucamonga) and Eloise Reyes (D-San Bernardino) were in attendance, as well as San Bernardino City Mayor Carey Davis, Council Members John Valdivia and Bessine Richard, City Attorney Gary Saenz and Police Chief Jarrod Burguan.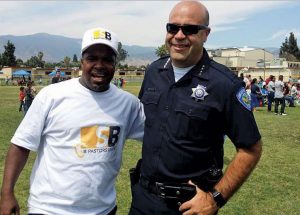 "Our message to the community is that we care, and ask them to look to God and the church when they have needs," Woods continued. "People usually know what's happening in their neighborhoods, and we urge them to say something if they know something's going down because it could be their brother or uncle or cousin who could be the unfortunate victim of that stray bullet."
According to the San Bernardino Police Department's citywide Uniform Crime Reporting statistics, the murder rate in the city is half of what it was this time last year.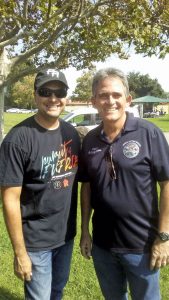 Though it's difficult to attribute one single factor to the decrease in the number of murders, Mayor Davis noted how events that bring the community together have had an impact on that statistic, including the increase in police officers and engagement of neighborhood associations.
"There is a sense of community at events like this, and a sentiment that everyone wants to get along and to take care of each other," Davis said.
Flor Hernandez, who tried on and took home a brand new pair of black U.S. Polo Assn. sneakers, felt the event offered the community the opportunity to connect.
"I think it's a good idea to bring different ethnicities, religions and cultures together, especially with so much controversy going on everywhere," she said. "We need to stand together and come together."
Tracey Lorentz, who lives near the park, was surprised by how respectful people were while waiting in line for free food and shoes. "It's very calm and mellow, very well organized," the grandmother of five said incredulously. "No one is rude and there's no pushing in line like there are at other places. Amazing."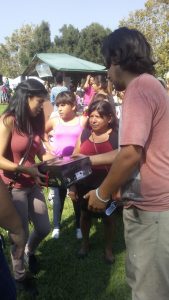 Pastor Dion Taylor, president of the Cruz Chacon Foundation, pointed out how many young adults showed up without their parents. "It's gratifying to see the younger generation come out to be a part of this on their own, for them to notice that we do care for them and that it's important to be engaged with your community," he said. "This event shows that we can come together, get along, and embrace our differences; we are thriving here in San Bernardino as a community despite what is being reported in the news."
SBPU has a three-pronged strategy to curbing the city's crime rate: Crisis Engagement Team, charged with prevention and intervention measures; Community Engagement Team, responsible for reaching out to residents; and the Civic Engagement Team, which works closely with the San Bernardino Police Department.
The Block Party took place on the eve of its first anniversary; the first was held at La Placita Park on September 17 last year.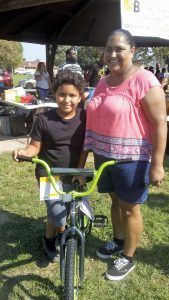 "I feel very blessed that we are able to meet the natural and spiritual needs of the community," said Pastor Reginal Young of Ecclesia Christian Fellowship. "It's so important that we not just give food, but manna from heaven – that is what will change their lives forever."
According to Young 600 people registered for and received a free bag of groceries, there were over 130 volunteers, and nearly two dozen people joined a congregation.
Touch of Heaven Ministries, Holy Land Church, Servant Branch Ministries and Catholic Charities recently joined SBPU, comprised of Ecclesia Christian Fellowship, The Way World Outreach, First Baptist Church, San Bernardino SDA Church, Victory Outreach, New Life Church, Church of the Living God Temple 208, Life Center Church, Life Changing Ministries, Westside Christian Center, Kingdom Culture Worship Centre, Catholics of African Descent, Spirit of Love Church, Immanuel Baptist Church, St. Timothy Community Church, San Bernardino 16th St. SDA Church, Treasure of the Heart Ministry, The Rock Church, St. Mark Missionary Baptist and St. Stephens Church.
---
Join our newsletter for weekly wrap-ups of our community coverage, exclusive advertising opportunities and local business specials!