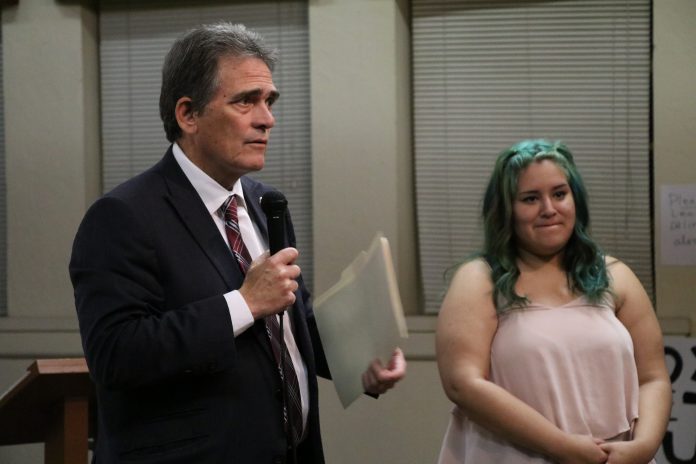 When San Bernardino officials drafted and sent a letter to President Donald Trump in February, asking for assistance to combat crime and drug use, dozens of young adults sprung into action.
They voiced their discontent during public meetings, scheduled one-on-one appointments with representatives, and strategized on solutions to improve the state of the city.
Last Thursday's town hall at the Garcia Center for the Arts was the culmination of a two-month effort by San Bernardino Generation Now and the Inland Congregations United for Change to improve relations with Mayor Carey Davis and the City Council.
Many of the organizers believe they saw "true diversity" represented during the town hall for the first time.
"We were all on the same page about [Davis and the City Council] not including community," expressed Rocio Aguayo, 21, who has been an active member of both Generation Now and ICUC. "Leaders did more listening than they did talking. We had older people and younger people represented from every ward. I don't think the city has cared about things like that in the past."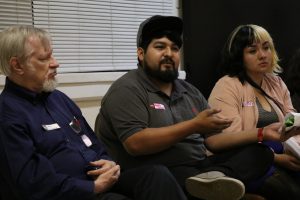 Residents were allowed to voice concerns about blight, housing, crime, community development, transportation, infrastructure, mental health, and other issues. The town hall was structured in a grassroots manner. Breakout sessions were held to give residents personal time with their representatives to ask specific questions about their ward. [notes from breakouts/ward data]
For example, Mayor Davis and Councilwoman Virginia Marquez were grouped together in one room. They took in questions from residents that were mainly concerned with the area's quality of life and access to educational and government resources.
"We need to help young people understand how to do basic things, like filing taxes," said Manuel De La Garza, who was able to purchase a home with the help of government assistance. "We also need better opportunities to achieve in higher education."
In another room, Councilman Fred Shorett and City Manager Mark Scott spoke to residents about the city's vision to revitalize business and improve housing. ICUC organizer Erika Ruiz expressed concerns regarding gentrification, which improves housing in low income neighborhoods to appease middle-class interests.
"What if we're driving poor people out?" Ruiz asked.
Scott aimed to quell Ruiz's concerns by explaining that the city intends to deal with gentrification before it becomes a huge problem. He referred to the Arrowhead Grove Housing Project, which will replace Waterman Gardens with over 400 affordable and senior housing units. National CORE, the project's developer, confirmed that existing residents will not be forced out, but instead be given priority over future tenants.
"You build housing where you want it built," Scott remarked. "You'll make sure you don't drive people out. We're in a position to deal with it before it becomes a problem."
Davis told the 80 or so residents in attendance that he was happy to be present and is looking forward to future conversation.
"I was very impressed by the dialogue that was going on," Davis said. "We crossed a lot of boundaries tonight."
Virginia Marquez told her constituents that she's optimistic of the city's future. "I'd like for San Bernardino to be a destination place. We're resilient people and we're showing that."
Gil Botello, an Arts Commissioner representing the First Ward, hopes city officials will live up to their promise of engaging with residents.
"The city has a history of having dialogue with no follow up," Botello expressed. "I think this is the prototype for the creation of a department that deals with neighborhood empowerment. The city needs to improve their relations with residents."
Resident Alex Beltran believes it's up to the residents to turn their vision of a better San Bernardino into a reality. She hopes organizers of the town hall remain persistent in their efforts to communicate with city leaders.
"The city's administration has been very isolated from residents," she said. "We have to continue to push our council members to meet with us regularly."