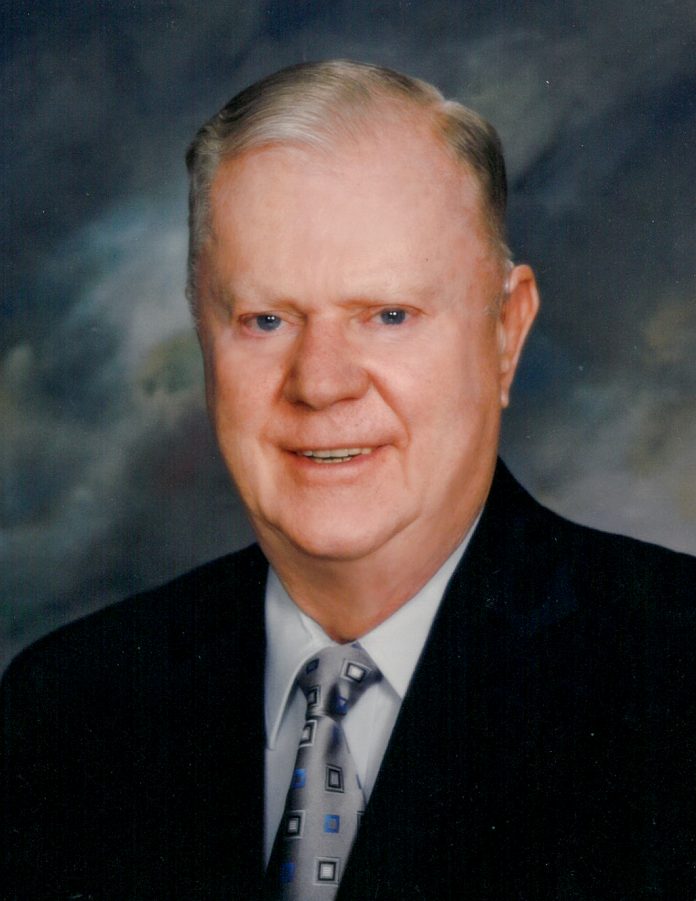 Dr. John R. Kazalunas, former educator, former Rialto Unified School District (RUSD) Board of Education Member, lifelong child advocate and namesake of the District's Central Office, Kazalunas Education Center passed away on January 10, 2023, at the age of 91.
Dr. Kazalunas' services will be held on Wednesday, February 8, 2023, at 10:00 a.m. at St. John XXIII Catholic Church, located at 222 East Easton Ave., Rialto CA 92376. On the same day, there will also be a Celebration Of Life ceremony at 2 p.m. held at the Rialto American Legion, located at 848 S Lilac Ave, Rialto, CA 92376. The RUSD Board of Education held a moment of silence in his honor at the January 11, 2023 school board meeting.
Dr. John R. Kazalunas was born on August 27, 1931. He was a retired psychologist, lifelong educator, decorated military veteran, active community member, and was a member of the Rialto Unified School District Board of Education for 20 years. Dr. Kazalunas spent more than 40 years in public education, where he earned the reputation as the "busiest man in education."
He earned his bachelor's degree from the University of Nebraska, his master's degree from American University, and his doctorate from the University of Virginia. He worked as a teacher, counselor, vice principal, and university professor. He was first elected to the RUSD Board of Education in December 1979. Known as a vocal advocate for both students and staff, Dr. Kazalunas was elected five times (20 years) and had three separate stints on the Board of Education — from 1979 to 1987, from 1989 to 1997, and from 2006 to 2010. During his tenure, he opened several schools and support facilities.
In addition to his lengthy resume in education, Dr. Kazalunas served 21 years in the United States Marine Corps and fought in the Korean and Vietnam Wars. He was awarded the Purple Heart after being wounded during the Vietnam War. The war injury made him hearing impaired for the remainder of his life, but he often joked, "To be quite honest, sometimes I only hear what I really want to hear."
Dr. Kazalunas was married to his wife, Theresa for 68 years. Mrs. Kazalunas lives in City of Rialto.
"My father was interesting," replied his only son, John. "He kept his political and public life away from home. Dad did really keep his family separate from his public life with the community. He had a good balance about him."
Dr. Kazalunas was one of the first Causcian members of the Rialto Black History Committee, he was a Lion's Club Member, a Kiwanian and was one of the first to purchase tickets to the RUSD annual Ritz (Rialto Incredible Talent Zone) Fine Arts Student Gala. "Anything that helps kids, I will support no matter what."
Former Rialto City Councilwoman and active Rialto resident Lynn Hirtz, a longtime friend of the Kazalunas family, said the community has experienced a great loss of a good man.
"John was a man of diverse interests," replied Hirtz. "He cared a great deal about people and was not afraid to show it. His intention was always to do what was right and he wanted to treat people well. He had a good sense of humor. John aspired to be the best. We would take cruises together, and he enjoyed it so much that he reached the Elite level for the Princess Cruise," she smiled, "And that was John. If he liked something he put his dedication and commitment into it. He will be missed by many."
On January 11, 2011, Dr. John R. Kazalunas Education Center was approved by the RUSD Board of Education (then President Michael G. Ridgway, Vice President Joanne T. Gilbert, Clerk Joseph Ayala, Member Joseph W. Martinez, and Member Edgar Montes on January 12, 2011, renaming the RUSD's central office. A dedication ceremony was held on February 17 of that same year.
After his dedication ceremony, Dr. Kazalunas said, "To be honest with you, it was a surprise to me that anyone would name a government building after me. There's pressure to make sure you don't mess anything up after. I was very… humbled."
"Dr. Kazalunas had a tremendous heart for children," stated Syeda Jafri, Spokeswoman for the RUSD. "He was a Board Member when I was enrolled as a student in our school district. I witnessed him champion student causes. Later, when I became a staff member at the RUSD, 'Dr. K,' as he was affectionately known, continued to serve on the Board of Education. Making decisions in the best interest of students, families and staff is a challenging task, at times, but it is one that Dr. K knew he signed up for and fulfilled quite well. He served his country, his family, the school district, and now he has left his legacy of service to the community he loved and was so passionate about. The District sends its condolences to his family."
Dr. Kazalunas is survived by his wife, Theresa (Teri) Jean Kazalunas; daughters, Terri Bruington, Kathy Smith, Lisa Kazalunas, and Karen Ceballos; son, John Kazalunas Jr.; sons-in-law, Chuck Bruington, Butch Smith, and Charlie Ceballos; daughter-in-law, Lisa A. Kazalunas; granddaughters, Stephanie Bruington, Molly Smith, Suzanne Kazalunas, and Erin Kazalunas; grandsons, Kurt Kazalunas, Austin Smith, Kevin Ceballos, and Cameron Ceballos and great-granddaughter Sarah Smith. Additionally, Dr. Kazalunas has one surviving sister, Joan, who lives in New Jersey.