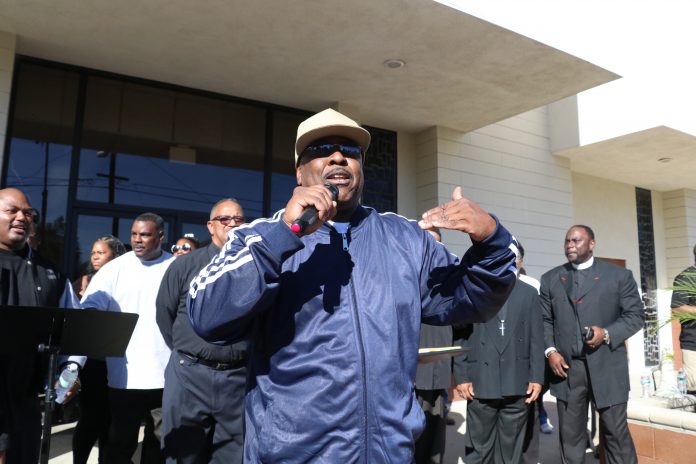 Hundreds gathered near the Ecclesia Christian Fellowship Church in San Bernardino on October 22 for a peace rally and march.
According to event organizers, efforts were put together as a response to the growing poverty and violence in the city. Their "three prong" approach involved providing education, health, and social services to residents.
"We want to let people know that we care about San Bernardino," said Worship in Truth Church Pastor Kevin Moreland. "We need to help our community help themselves."
For years clergy and community leaders have made calls to action to the community in hopes of reducing violence to little avail. About 90 homicides have taken place in San Bernardino over the last two years.
Stone believes the city's approval of an Operation Ceasefire intervention program is a "huge step" in the right direction. However, he hopes leaders could come together to pinpoint specific issues that contribute to a culture of brutality.
"It's a great collective effort," expressed Young Visionaries Chief Executive Officer Terrance Stone. "But we have a multitude of problems here. This violence is coming from somewhere. We need to figure out the things that are creating this atmosphere."
Councilwoman Bessine Littlefield-Richard, who also serves as a manager with the San Bernardino County Workforce Development Department, urged residents in attendance to seek her assistance with finding employment.
"If there is anyone out there that needs a job, needs some vocational training, or needs help with a resume, holler at your sister," Littlefield-Richard said. "I'm here, I'm real, and I'm available."
Khalid Shah, founder of the Stop the Violence Foundation, urges for people of all religious and ethnic backgrounds to come together to improve San Bernardino.
"We need peace, but we need action to back that up," Shah said. "We're here, we're committed, and we're coming."