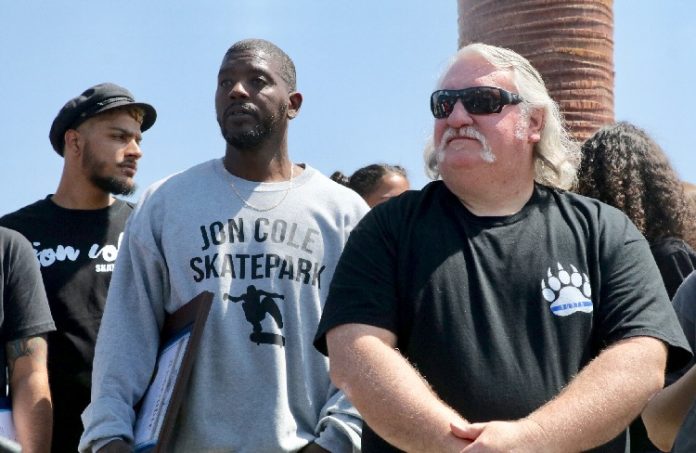 San Bernardino celebrated the opening of a new park Saturday with a small ceremony for the community.
The Bryce E. Haynes Memorial Park–located on the northwest corner of 9th and E Streets–is named in honor of a veteran San Bernardino Police who was killed by a drunk driver while on patrol in 2015.
It consists of playground equipment, a water-recycling splash pad, and 50 drought resistant plants and trees.
A skate park–named after skateboarder Jon Cole, who died after trying to save his stepfather and mother from a fallen electrical line in 2011–was built alongside the recreational area.
City and local water experts view the park's opening as the symbol of a successful partnership. Both agencies applied for and received a $5 million grant from the state Parks and Recreation Department to convert the former vacant lot into a green space.
"We see the completion of this park as a testament to the willingness of the city and the water district to be good neighbors and work together," said San Bernardino Valley Municipal Water District President Susan Longville. "We also appreciate the opportunity to use this park as a demonstration garden to showcase water efficient landscaping that will help us conserve water in years to come."
Both Haynes and Cole were described as "gentle" and "kind" men that were loved by family and friends.
"He was just excited to be a cop, to go out there and try to make a difference, and he did," said Hayne's brother, Scott. "Bryce gave his all in the service of others. Today he will be memorialized at this beautiful city park."
San Bernardino-based skateboarder Frank Spero said Cole was the kind of friend that was helpful and understanding.
"You meet the guy, and five minutes later he's already your friend," Spero said of Cole. "He was the best."
Spero believes the park will help build trust in the community and keep young people off the streets.
"It gives people a good place to skate and come together," he said.