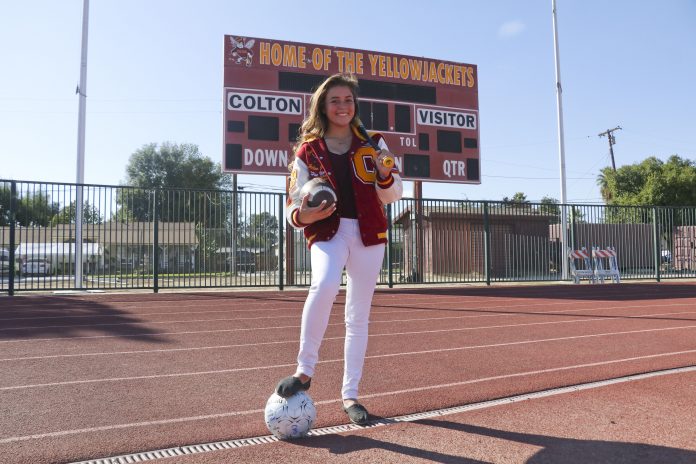 There are students who struggle to play sports due to fears of getting hurt or because of possible failure. Other students delve deep into athletics–with some choosing to play multiple sports.
Colton High School junior Jessikah Ybarra is different than most multi-faceted student athletes. The 16-year-old suits up on Thursday afternoons and Friday nights for the Yellowjacket football program.
She's showing fellow classmates that the sky's the limit.
"I'm out here showing that you don't have to be afraid," Ybarra expressed during an interview on September 25. "Anyone can do anything [they want to]."
Ybarra began playing football her freshman year. She said her older brother's influence motivated her to try out for the team. The kicker and corner decided to take last year off to focus on soccer, but wanted to come back in hopes of gaining a spot on the varsity squad.
Although she's not a regular starter for the Yellowjackets on Fridays, she's making headway through her athleticism, confirmed head coach Shawn Collins.
"We treat her like one of the guys," Collins said. "She's definitely improved a lot. We needed a kicker on our JV squad and she volunteered. She's very involved."
When not attempting field goals, Ybarra plays on defense. She covers receivers and comes down hard on tackles, Collins claims. Off the field, Ybarra has among the highest grades and is well liked.
"She's an all around good person and is very genuine," said Collins. "Everyone likes her. She fits in."
On the soccer field Ybarra is a 'double threat', meaning she plays as both a goalkeeper and a striker. She's expecting to be one of the leaders this year for the Lady Yellowjackets. During spring, Ybarra plays third base for the school's junior varsity softball team. She said she's aiming to make the varsity squad.
Ybarra admitted she does receive criticism from some people. Despite outside feedback, she remains focused on academics and athletics.
"I may not do as much as the other boys, such as lifting weights, but I'm still out here everyday…working my butt off," she said. "If you really love something, it takes sacrifice. Sacrifice is a big thing when it comes to being a student athlete."
After graduation, Ybarra wants to join the Air Force and become a part of the Judge Advocate General's Corps to receive experience in law. In the short term, she's hoping to contribute to a Yellowjacket football winning season.
"I'm very proud of them," Ybarra said of the varsity squad. "My brothers go out there 110 percent and prove that they can do it."
---
Join our newsletter for weekly wrap-ups of our community coverage, exclusive advertising opportunities and local business specials!