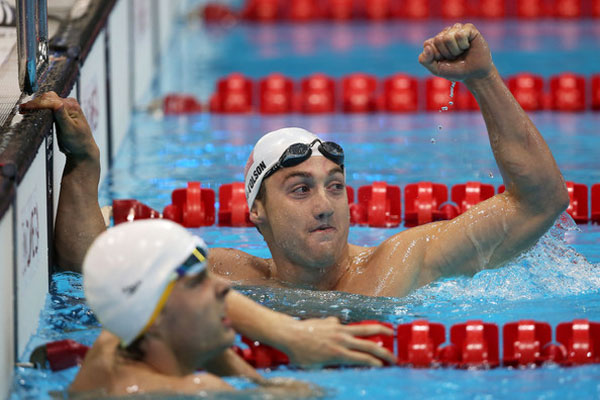 Bloomington High School graduate Rudy Garcia-Tolson is one of 31 American athletes who qualified for the 2016 Paralympic Games currently being held in Rio de Janeiro. Garcia-Tolson, who was named men's team captain can be viewed on NBCSN-TV on Sept. 9, Sept. 10, and Sept. 13 competing in the 100m butterfly, the 100m breaststroke, and the 200m Individual Medley in that order. Garcia-Tolson, 27 is making his fourth appearance in the Paralympics which always follow the Olympics by two weeks.
Like Michael Phelps, Garcia-Tolson once held his division's world record in the 200m Individual Medley. Garcia-Tolson had the chance to workout with Phelps in May when the decorated Olympian visited the U.S. Training Center, where Garcia-Tolson resides at the Colorado Springs, CO facility. Phelps encouraged Garcia-Tolson to recapture his record, something that Phelps was not able to do in Rio. The U.S. Paralympics are a division of the U.S. Olympics.

Garcia-Tolson has won a total of two gold medals, one silver, and one bronze over the course of his Paralympic career that began in 2004 in Athens while still a junior at Bloomington High. He won in the 2008 Games held in Beijing and in 2012 in London. He has also won in the long jump and cycling at the national level and was the first double amputee to compete in the ironman triathlon. He gained immense popularity in San Bernardino County when he was a 14-year-old distance runner.
Garcia-Tolson says his favorite overall sport is wheelchair rugby. At last count, he held 17 national records in his class. Garcia-Tolson has appeared on national prime time television many times. He will be featured again Nov. 16 on the CBS Special 25th Anniversary of the "Courage in Sports" episode. He received that award in 2001 and participates as one of its past honorees. During his four-years swimming at Bloomington HS, he competed against some of the best overall swimmers in the state.