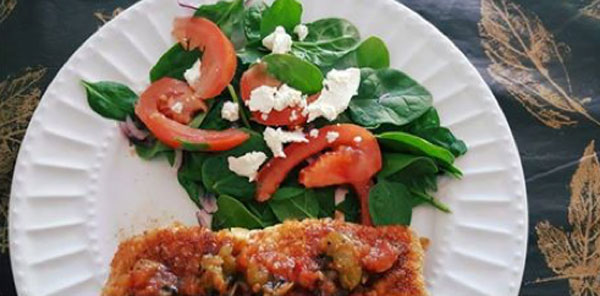 Here is a great tasting meal that will help you stay on track with your nutrition plan. Enjoy!
Ingredients & Process:
Salmon from Costco cut it into about 2″ Width made about 8-10 pieces.
Sea Salt & Black Pepper to your taste preference.
•1/8 Tsp Cayenne Pepper
•1/4 Tsp Garlic Powder
•1/8 Tsp Paprika
•1 Cup Wheat Panko Crumbs
•1 Cup Almond Meal
•1 Whole Egg Lightly Whipped
•1 Tbs. of Grapeseed Oil
Mix all seasoning along with Panko and Almond Meal in a large bowl.
Put the egg in a separate bowl.
Dip Salmon in egg until coated then dip into crumb mixture, may need to press crumbs into Salmon.
Place the salmon on a preheated pan with Grapeseed Oil until salmon is cooked halfway then flip ready when fully cooked or as desired.
Serve in a taco or salad.