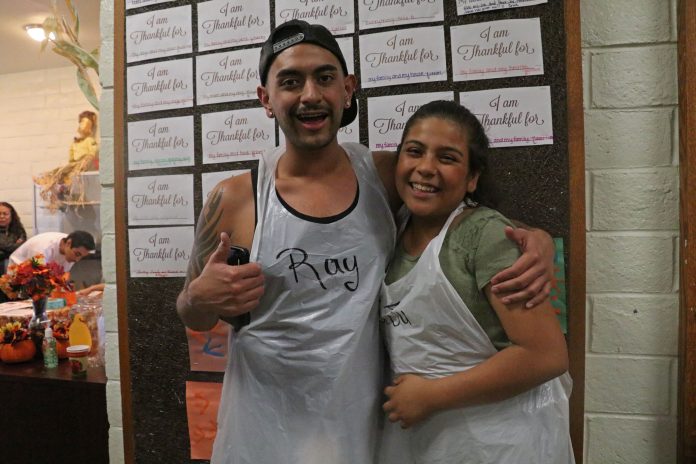 Colton's annual Thanksgiving events are structured to benefit both volunteers and residents, explained Chris Rhymer.
"More people would give back to the community if they had a system of support," he said "Having our program in place makes it easier for residents to volunteer every year."
Hundreds of people were served turkey, mashed potatoes, gravy, and stuffing at the Hutton and Luque Community Centers on Thursday morning, while dozens of others received sweaters and other winter clothing.
The city's Community Services Department holds luncheons every year to serve people who are homeless or struggling financially–while also giving residents the ability to get involved in community service.
"I feel good when I serve my community," explained 12-year-old Guiliana Danovaro, who has volunteered at Luque with her family for the last five years. "I do it out of love."
According to city officials, the number of people who attended the luncheons are indicative of Colton's improved service for residents in need of support.
"It's so nice to see this," expressed Councilman Dr. Luis Gonzalez, who represents the area that surrounds the Luque Community Center. "The harder cases of people struggling are always here [in South Colton]. Many people are need."
Chris Rodriguez, who is currently homeless, believes the city deters crime when it lends a hand to people in his situation.
"I probably wouldn't have ate if it wasn't for this event," said Rodriguez. "People break the law sometimes in order to obtain this kind of stuff. It's overwhelming to see people give with no judgement."
Rhymer is convinced the holiday luncheons will contribute to the development of friendship, trust, and unity.
"It's always the same families that come back every year," he said. "We see each other every year. This has brought a sense of community back to Colton."