Khizr and Ghazala Kahn
4 min read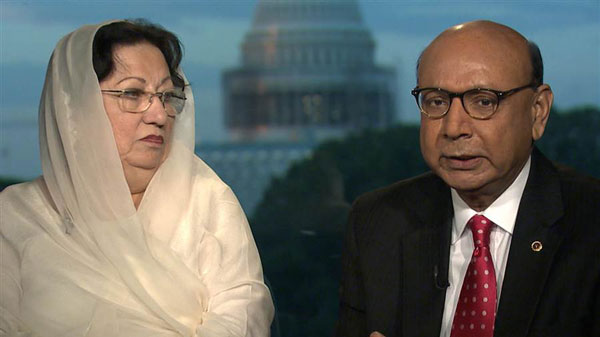 Much of the information in this article is based on an article in This Week Magazine that was copied from an article in the New York Times. It is one of the most interesting accounts I have ever read. Much of what we know about the Kahn family is common knowledge. It has been shown over and over again. I am not interested in repeating what happened at the Democratic Convention or the Republican response or the Khan's rebuttal.
In any case, the lives of Khizr Khan and wife Ghazala became an American moment. He was born in 1950 and she in 1951 in the Punjab Province of Pakistan. Khizr was the oldest of ten children. His parents owned a poultry farming business.
The couple met while attending the University of Punjab. She was studying the Persian language and he was in the Law College. He passed the Punjab bar in 1974. His attraction to his future wife was not only her beauty but her intelligence as well. They were both interested in Persian literature.
Following their marriage, they moved to Dubai in the United Arab Emirates to earn money to come to the United States. Two of their three sons, Shaharyar and Humayun, were born in Dubai.
They moved from the UME to the USA in 1980, first to Houston, Texas. Khizr received an L.L.M. degree from the University of Missouri Law School. They moved to Cambridge, Massachusetts and he earned a L.L.M. degree from the Harvard Law School in 1986. They both became citizens of the United States in the same year, 1986.
Following graduation they moved to Silver Springs, Maryland. Their third son, Omer, was born there. Khizr went to work with the law firm of Hogan and Hartson where he became manager of litigation technology.
Their middle son, Humayun, graduated from the University of Virginia in 2000. As a member of the ROTC program, he enlisted in the Army. He rose to the rank of Captain and served in Iraq during the Iraq War. In 2004 he was killed in Banquban, Iraq by a bomb explosion. He protected his own men. He and the two suicide attackers were killed. He was posthumously awarded the Bronze Star and the Purple Heart Medals. His remains are interned at Arlington National Cemetery. By the way, his tombstone is adorned with a Muslim Crescent.
In 2002 Capt. Khan met a German woman named Irene Auer. After dating they fell in love and planned to marry and settle in the USA. His goal was to go to law school. In his last e-mail to her he told her to go pick out an engagement ring.
After several months with the Khans, Irene returned to Germany, and she met a man who became her husband. They have two daughters.
Following the death of Humayon the Khans moved to Charlottesville, Virginia to be close to their other sons. They became very involved with the R.O.T.C. program at the University. That's where Humayun had been a cadet. Mr. and Mrs. Khan became known as the "mom and pop of the department."
Currently, Ghazala works in a fabric store and Khizr continues his legal consulting, working in commercial law and specializing in electronic discovery.
The Khans are very patriotic, as are most immigrants from other countries. I am very good friends with several Muslims. One visits his ailing mother in Pakistan about every 6 months, and when he returns he gets on his knees and thanks Allah that he is back in the U.S. He certainly is a patriotic citizen.
Most of the friends of the Khans know of their patriotism and that Khizr carried a $1 Dollar pocket copy of the Constitution with him at all times. "In the Khan home, a stack of them always lay at the ready. When guests showed up they were handed one, in the way other hosts might distribute a party favor."
Usually the Khans would start a conversation about liberty.
I'll never forget the evening when the Khans-Khizr-spoke for 6 minutes and one second at the Democratic Convention. Ghazala looked sad and did not say one word.
Later on she was mocked and accused of being a typical Muslim woman who dared NOT speak in public.
A total, deliberate, vindictive accusation that is completely false. Muslim women are feisty and out spoken. I know several of them and I assure you they are not timid.
Why then was Ghazala sad and quiet? Simply she is still grieving over the loss of her son.
Mr. Khan's statement when he lifted his copy of the Constitution, I'll never forget. "You have sacrificed nothing and lost no one."
Amen. Selah. So be it.