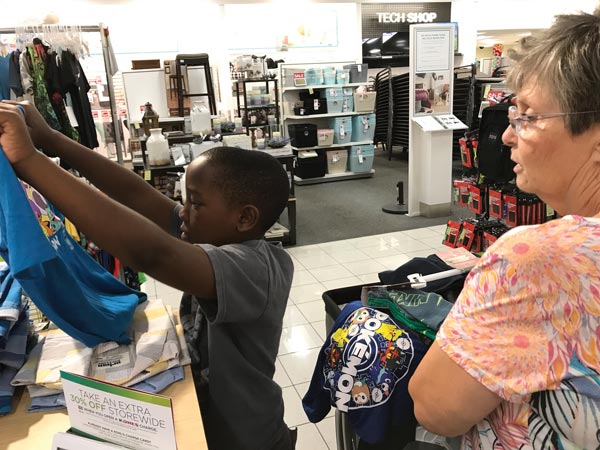 Ask Isaac Delgado what his favorite part of back-to-school shopping was and the eight-year-old will say, "Spending time with my shopping buddies."
Paired up with brother and sister duo, Jessi and Matthew Lanum, and volunteers with The Kiwanis Club of San Bernardino, Isaac spent Saturday morning last week shopping till he dropped as part of the Boys & Girls Club of Greater Redlands-Riverside's annual Back-to-School Shopping Spree.
Isaac picked out everything from a hat to shoes for his first day of third grade, and even went home with a little something special, two new friends.
"It's really hard to describe this experience," said Jessi. "We were the ones that were able to pick out the things he needed to start school. Back to school shopping a big deal for any kid, especially when you're young. And to be able to share that experience with him was like us having another sibling, a younger brother."
The annual event is part of a long-time partnership between the Kiwanis Club of Redlands Noon and, recently, the Kiwanis Club of San Bernardino and Redlands Elks Lodge, to provide children in need with a $100 shopping spree at Kohl's in Redlands. Coupons and a tax free day are also applied to totals, helping the young shoppers fill carts. If children were over their totals, volunteer shoppers didn't mind dipping into their own pockets to cover the cost.
This year's event helped 120 youngsters replenish their closets, and also provided them with a new backpack filled with school supplies.
Donna Ferracone, coordinator of the spree said the event is by far the favorite for Kiwanians and friends.
"The smile on these kids faces makes every bit of it worthwhile."