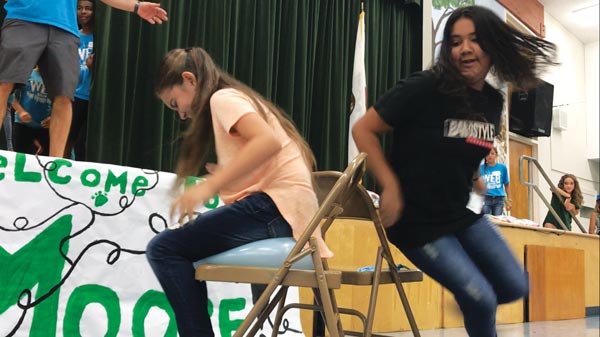 Hundreds of incoming sixth graders at Moore Middle School in Redlands got a head start on making new friends this school year.
The school's WEB Club — Where Everyone Belongs — hosted a welcome day complete with games and activities for the more than 400 students embarking on their first day of middle school Aug. 9.
WEB Coordinator and Moore educator Jon Martin rallied up the students in the multi-purpose room with a few singing and dancing activities, helping the newcomers get comfortable in their environment.
"Middle school is all about figuring out your own style and finding yourself," he said to students. "Be your own person, try out different styles not just what your friends are doing. Figure out what your style is."
And to keep students in the groove, WEB members, all seventh and eighth graders, led a series of team building exercises, including a balloon pop, with the students to help break the ice and hopefully build lasting friendships.
"We're hoping to make their transition easier and their first interaction a positive one," Martin said. "We want them to have a sense of belonging."
The WEB orientation was the first-ever at Moore and plans are to continue it for next year, Martin said.
Other schools at Redlands Unified with similar orientations for sixth graders include Cope and Beattie middle school.