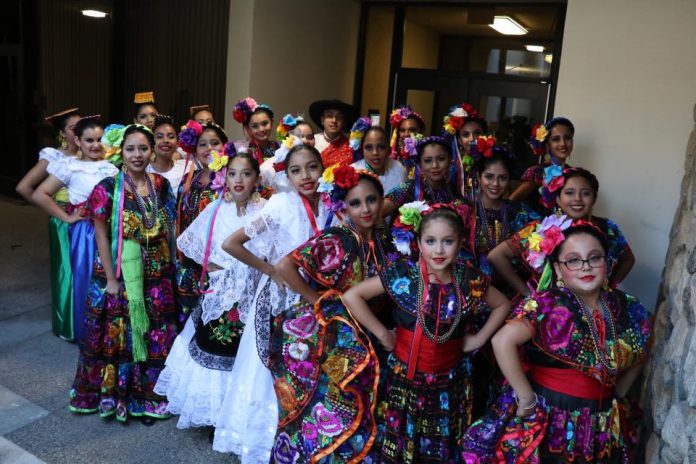 President Tomas Morales received one of Mexico's highest honors during the Mexican Independence Day celebration at Cal State San Bernardino Thursday night.
"I dedicate this award to continuing the efforts to provide access to affordable educational opportunities for all – including immigrants," Morales said. "This university will continue to help increase the education level within the local workforce and strive to improve the quality of life for all who call the Inland Empire home."
Every year the Mexican Ministry of Foreign Affairs gives out Ohtli awards to individuals who provide assistance to Mexican nationals in the United States, particularly in the social and educational sectors.
Eunice Rendon Cardenas, head of the Institute for Mexicans Abroad under the Mexican Ministry of Foreign Affairs, expressed her admiration for Morales' educational work in helping Mexican and Latino students succeed in the classroom.
"He has distinguished himself working in the educational community for over 40 years," Cardenas said. "He has helped open the doors for young Mexicans and Latinos to succeed at the university."
After honoring Morales, Mexican Consul Enrique Salomón Rosas Ramírez performed the "Grito de Dolores"–honoring Mexican independence leader Miguel Hidalgo's rallying cry for freedom in 1810.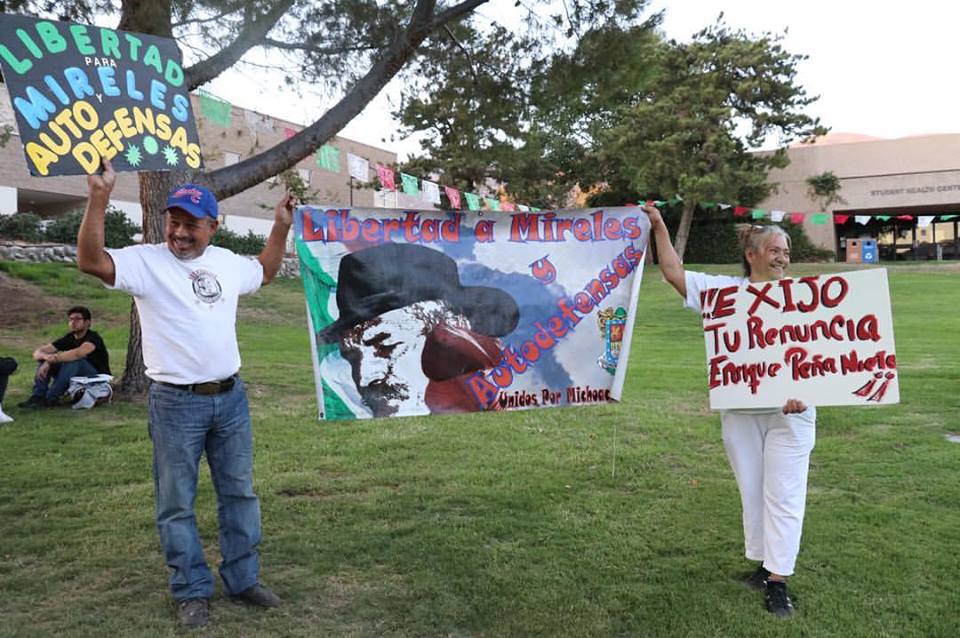 Mexicans say Independence Day should be time for reflection
Mexican folk music and dance was on display for the hundreds of residents in attendance at CSUSB's Lower Commons. Performers wore colorful and vibrant costumes–showing the country's Spanish and indigenous influence.
"It's good for our community to enjoy its culture and have pride for their roots," said Diocese of San Bernardino Director Petra Alexander.
While Fontana resident Genesis Godinez agrees that it's important to learn about Mexican culture and enjoy celebrations, she believes it's also important to have an understanding of the country's social and political issues.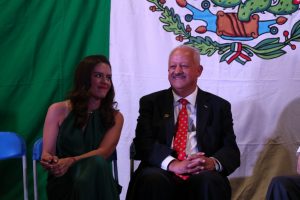 Her and a close friend, Francisco Zepeda, held signs with the message, "Exijo tu renuncia Enrique Pena Nieto (I demand your resignation Enrique Pena Nieto)" and "Libertad a [Jose Manuel] Mireles (Free Mireles)" to send a message to Mexican officials present at the event.
Godinez said the ongoing violence between drug cartels, vigilante groups, and Mexican law enforcement has killed thousands of people in the state in the past year.
"In Michoacan there are murders everyday with women and children," she said. "Why act like we're dumb? We should be ashamed of the cowards in our government and of the people who have sold out to power."
Alexander, who decided to approach Godinez and Zepeda to ask questions, appreciates their efforts to raise awareness of the violence.
"We cannot forget that we still do not have a free and just Mexico," Alexander said. "We all can recount stories of hardship and struggle."