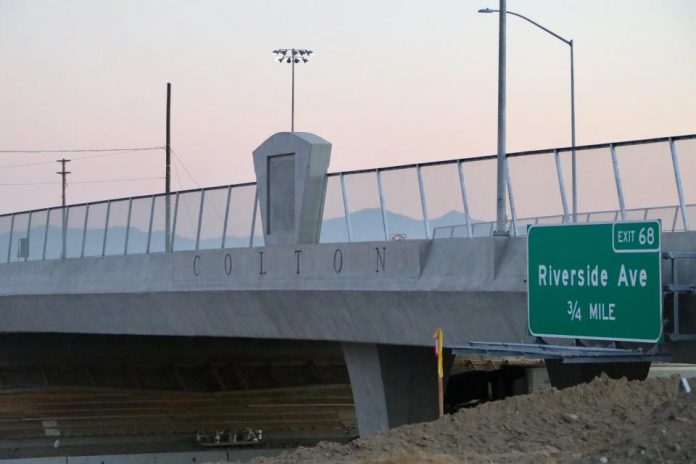 The Pepper Avenue Interchange project at Interstate 10 in Colton is scheduled to be completed by early next week, announced the San Bernardino County Transportation Agency on Monday.
Transportation officials will join county and city leaders on August 15 at 10 a.m for a ribbon cutting ceremony. Members of the public are encouraged to attend.
The bridge's completion marks the latest achievement by the SBCTA to improve county transportation. It is the fifth project to be upgraded along the I-10 since 2011. Improvements include wider on and off ramps, drainage enhancements, added lanes, ramp meters and traffic signals, and street repavement.
Construction began in March 2016 and was done in three stages, according to SBCTA Legislative and Public Affairs Chief Tim Watkins. An array of the work to improve the bridge was done overnight and in phases in order to reduce heavy traffic congestion during the day he said.
Funding for the $10.6 million project came from local, state, and federal funds, according to press release from the SBCTA.
Councilman Frank Navarro, who sits on the San Bernardino Council of Governments, said the bridge's improvements will help accommodate traffic on both Pepper Avenue and Valley Boulevard and pedestrian traffic.
"This will provide a better gateway to west Colton," Navarro said. "This was a very much needed improvement for our area."
Some commuters are glad improvements were finally made to the bridge and are anticipating changes to other area transportation overpasses and viaducts.
"It's my exit," said Colton resident Larry Infante. "I can't wait to see it completed along with other new stuff in the area."
Others like Marven Norman are skeptical whether improvements to the bridge will alleviate traffic congestion. He argues heavy truck traffic will do what it's done to other roads and bridges in the area–damage them.
"The last thing we need on Pepper is more trucks," said the transportation advocate. "The road is already perpetually torn up from truck traffic. If this makes Pepper a more favorable route to the railyard, that's a step backward."