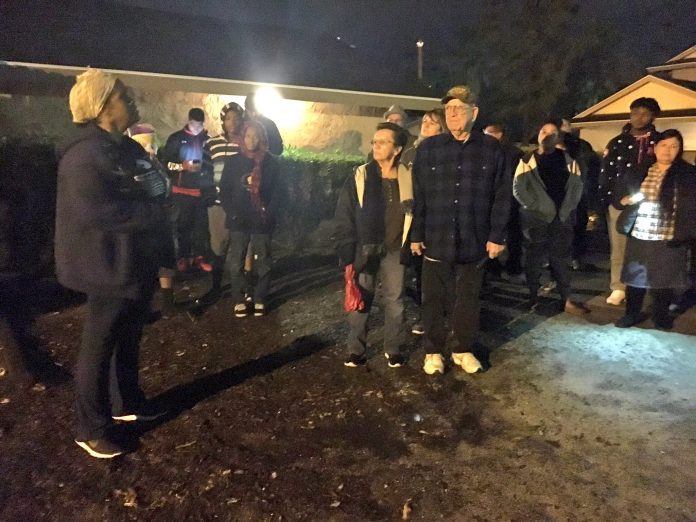 Dozens of residents participated in Gail Howard's memorial walk last Thursday night near Post Street and Sun Avenue in Redlands to honor two boys who were gunned down in the neighborhood six years ago.
On Jan. 5, 2011 Howard's son, Jordan, then 17, linked up with McCaleb, 17, Jackson, 16, and two other friends near the playground area of the Cinnamon Creek Apartments when shots were fired. McCaleb and Jackson died of their wounds later that evening and her son suffered damage to his eye.
Howard expressed she feels "guilt" over the shooting. Nonetheless, she's moving on from tragedy by turning "misfortune into hope."
"We've made it clear that we won't tolerate violence," said Howard. "We're here to bring unity to the community."
Officers from the Redlands Police Department helped lead residents in the one-mile walk that circled the neighborhood. Assemblymember Marc Steinorth was also in attendance to support friends and family of the victims.
Howard believes the march symbolizes continued collaboration and transparency between law enforcement officials and community members.
""It can't be us vs them," said Howard. "We don't want our children to be afraid of law enforcement. They're here to help and support us."
According to court reports, Varrio Redlands gang member Anthony Legaspi travelled with accomplices to the apartment complex to seek retaliation for being beat up earlier that day. Legaspi reportedly misidentified the boys as the males who jumped him, firing several shots from a 9mm semi-automatic handgun at them.
Legaspi, 23, was sentenced to life in prison in June 2014. He's currently incarcerated at the Salinas Valley State Prison, according to the California Department of Corrections and Rehabilitation.
Howard, who has lived in Redlands since 1974, said her and others have devoted time to organizing the Shop with a Cop event with the department. Howard explained that reaching out to young people in time could help prevent violent incidents and save perpetrators Legaspi.
"If someone would have helped him, he wouldn't be where he's at," she said. "That's why we have to continue working on ourselves."
Redlands Police Chief Mark Garcia said he was grateful for Howard's dedication to helping young people. "She's done a great job," he said. "We have the common ground of wanting to serve others."